A multi-functional space, your dining room can be anything you want it to be, where you eat, entertain and sometimes work. Whatever your style, size or budget, we have some dining room design advice on how you can make the most out of your space.
Choosing A Dining Table
A focal feature of any dining room, the dining table is more than just a functional surface. An integral decision when designing your dining room. It is important to select the right style and shape for your space and lifestyle.
Dining Table Shapes, Rectangle or Round?
The uncomplicated, linear shape of a rectangular or square dining table conveniently fits in most rooms. For the smaller dining room the table can be pushed against walls when not in use to allow for ease of movement.
The most versatile of all shapes, the round or oval dining table, works in any size or shape room. These shapes make clever use of the space that is available, the rounded edges incorporate curves that help to soften the scheme and break up angular lines.
The circular shape helps to build a sense of intimacy, with no head of the table, resulting in the dining experience feeling a lot more casual and it can easily accommodate an uneven number of guests.
Round tables can offer flexibility that a square or rectangle table often doesn't.
Deciding On A Colour Scheme For Your Dining Room
You have the freedom to do what you want when it comes to designing your dining room. It's your house, so your rules. Think about how you will use your dining room, and this will help to decide which interior colour shades and tones work best.
Colour can be introduced throughout your dining room with painted walls, furniture, accessories and more.
Calming Colours
If sitting down for your evening meal is the perfect way for you to relax after a hectic day, introducing shades of blue, dusky pinks or lighter greens ensure a sense of comfort, tranquility and serenity.
Energising Colours
Deeper greens and pinks can add a punch of energising colour to your dining room, and can be integrated with lighter, calmer colours. Not designed for the faint hearted, these will bring a statement look to your dining space.
Inviting Colours
Create an inviting ambience with warm colours such as red, yellow and orange. These colours are meant to make us feel brighter and peckish, therefore ideal for the primary purpose of any dining room, eating.
Dare To Go Dark
If your dining room receives plenty of natural light, you can be bold and embrace a darker toned colour scheme. Arrest the interest of guests with shades of deep purple, indigo, slate grey or midnight black.
Simple But Effective Colours
For a pared back space, an earthy or monochrome scheme, layered with subtle colours in soft furnishings and decorative accessories is perfect.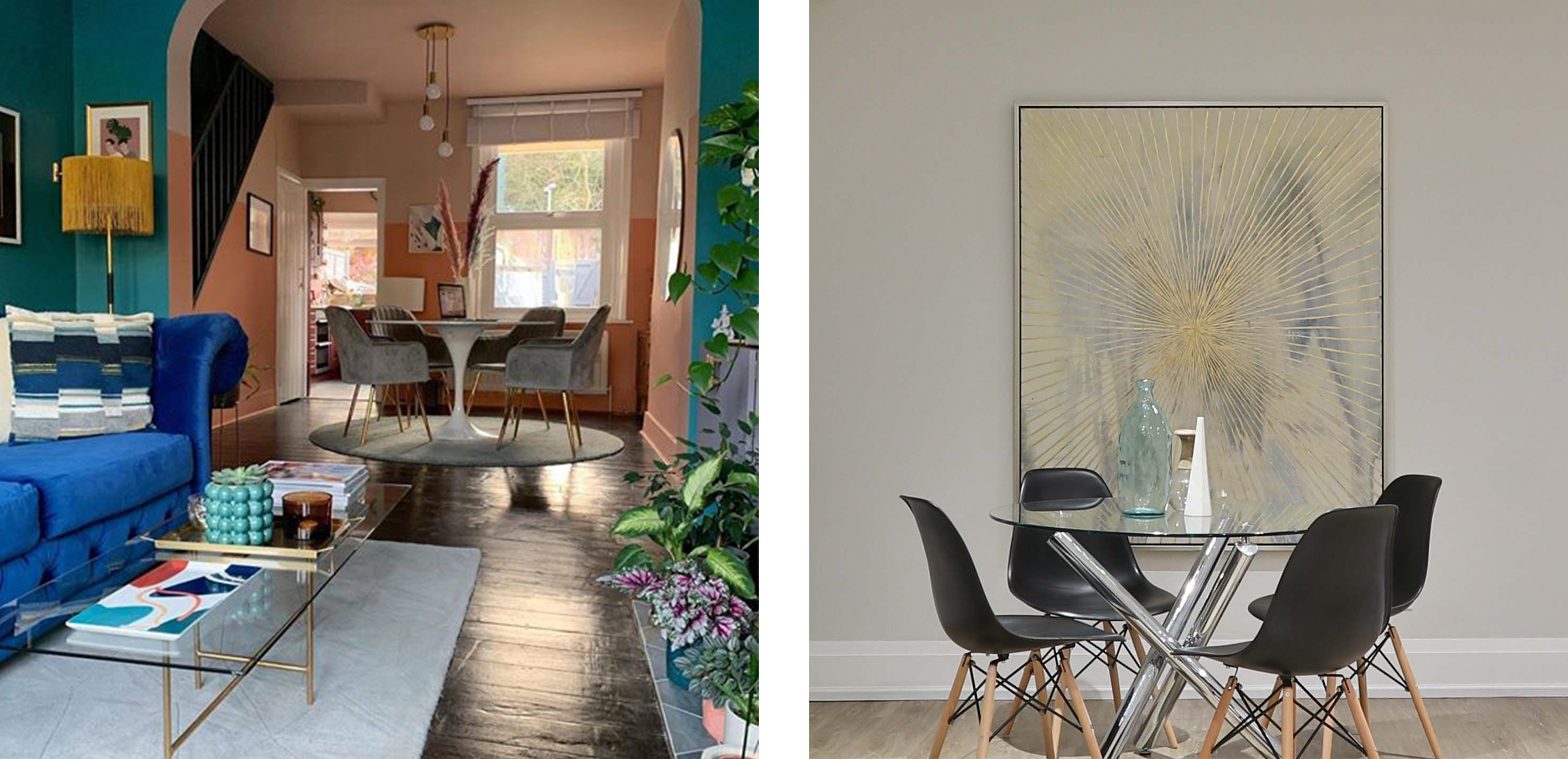 Designing A Large Dining Room
Consider the function of the room. How will time be spent in there? How much seating is required? Does the space need to have furniture to store away dinnerware?
You want your dining room to encourage conversation among the people seated. The space shouldn't be too noisy or have too many distractions. Sometimes, in an open plan home, it can be hard to ensure a private and intimate set up.
Make the dining table the centre of attention. Furnishings and accessories can be situated around the focal point to complement the space. To give a more creative approach, mix the style of furniture, lighting and artwork to give an eclectic look.
Designing A Small Dining Room
When designing a dining room with limited space, you need to be more thoughtful when it comes to decorating. However, don't let a small dining room limit you, make use of every inch of space you can.
Pedestal bases give more available floor space, giving the illusion of extra room. These designs can help a small dining room feel more open and airy.
If you need a versatile dining room, a round table allows you to fit more chairs comfortably. These round bistro inspired table designs help to provide a chic and practical choice for smaller dining spaces.
If you are living with an open plan space, and your dining area is included with another room in your home, you can establish clear separation between the spaces with a rug. On the flip side, you could position the rug in another area and use the negative space as the separation between your dining area.
You can try transporting your dining area into a French bistro by hanging a photo on the wall and dressing your table with fresh flowers and a candle.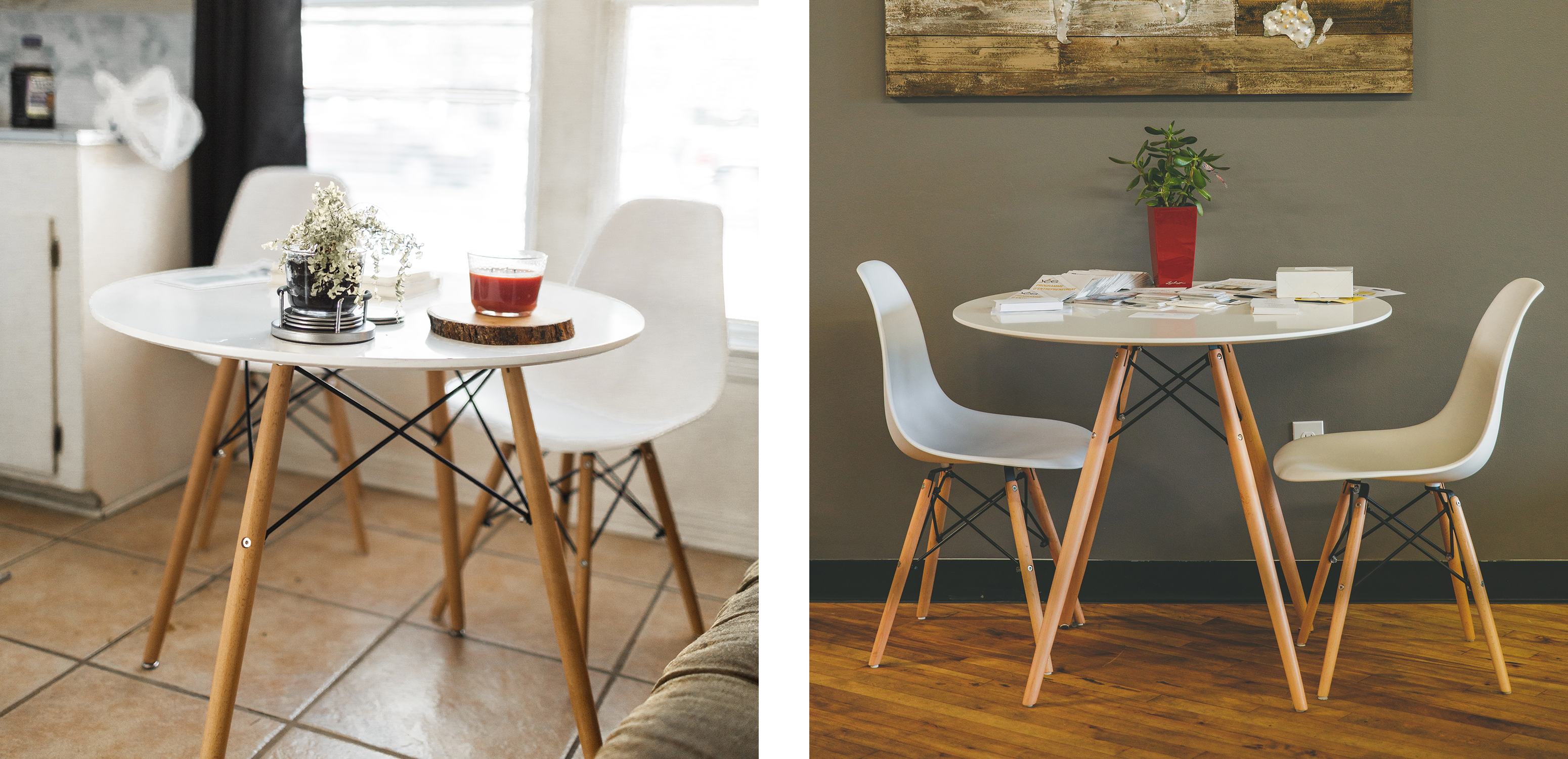 Family Dining
Family meals can be a very important part to your children's development, it is the perfect way for them to learn table manners and you can model acceptable behaviour as you are sitting around the table with them. With everyone sitting at the same level, this is the ideal place for eye contact while speaking. This results in better hearing and understanding as everyone can observe important social cues such as facial expressions and body language that can easily be missed with modern day interruptions. Creating this atmosphere in your home will leave your family members feeling valued, increasing their self esteem and building a culture of respect within the house.
Surprising Benefits You May Have Not Thought Of Before
With many potential benefits to a regular family meal round the dining table, such as encouraging picky eaters to try new dishes, promoting teamwork as everyone in the home can have a job to get the room ready, helping to prevent obesity by slowing meal times down with conversation between eating and building your child's self-esteem by listening to what they have to say, this shows you value their thoughts and opinions.
Easy to Clean Dining Furniture
Family dining furniture doesn't need to be compromised by spills and mess. Stylish designs without compromising on style, can still be made affordable. Consider the Eames Dining Table and Eiffel Chairs range. ABS plastic and durable materials mean the pieces can easily be cleaned and are tough enough to take on the demand that comes with daily use.
Fine Or Fun Dining
Whether you want a sophisticated or more relaxed look for your dining room, these interior design tips will perfectly implement your preferred dining style.
Light coloured walls can be more intriguing than white walls without engulfing the room in bold tones. But, if you want to make a statement, the dining room can be one of the best opportunities, with less time spent in the room compared to a living room or bedroom. You can be more expressive without making the room too busy.
Versatile Dining Rooms
A dining table that seems to adapt with its surroundings is the Saarinen Tulip Table.  It never looks out of place, no matter what your interior style. The pedestal base leaves ample leg room for a comfortable seating experience. You can create an eclectic mix of materials and styles by contrasting upholstery and contemporary features.
To soften a modern dining set, trying balancing the neoteric materials and design with homemade elements like a cozy, wool rug.
Accessories are the finishing touch to set the tone for the room. Think about the mood you want to create before purchasing your dining rooms decorations.