Ray Eames once said 'what looks good can change, but what works, works'. Is the Eames Lounge chair the exception to the rule? It's a design that looks as good today as it did 70 years ago and is certainly just as comfortable.
In this blog post we shall explain everything you ever wanted to know about the Eames Lounge Chair and Ottoman, why it's as popular as ever and why Pash Classics' faithful replica is your living room's new best friend.
We're sure you're aware of this classic design, its tilted silhouette can be seen in a multitude of popular TV programmes from Frasier to House and has had more celebrities photographed within it than any other chair: Frank Sinatra, Muhammad Ali and Ice Cube to name a few. In many ways it was destined to be a part of stardom as Charles and Ray Eames originally created the chair as a present to Oscar winner Billy Wilder.
Maybe this is why the Lounge Chair (or 670 as it was originally called) differs so much in ethos from Eames' previous designs? Prior to the 670, Eames were renowned for their DAW chairs which were designed and produced as affordable, quality pieces of furniture for the masses. Created for the high end market the chair differs in this respect, symbolising luxurious taste and lifestyle.
Of course Charles and Ray Eames didn't just design furniture to be cheap, or simply design furniture to appeal to the century's biggest stars. Each of their designs were innovative and designed to push furniture production forwards.
The 670 being no exception, the design duo made use of a new technology to create its smooth curved seat and backrest shells. Steam bent wood had reportedly been rarely seen in production furniture until the pair utilised the method as a way to increase the chair's simplicity, beauty and comfort.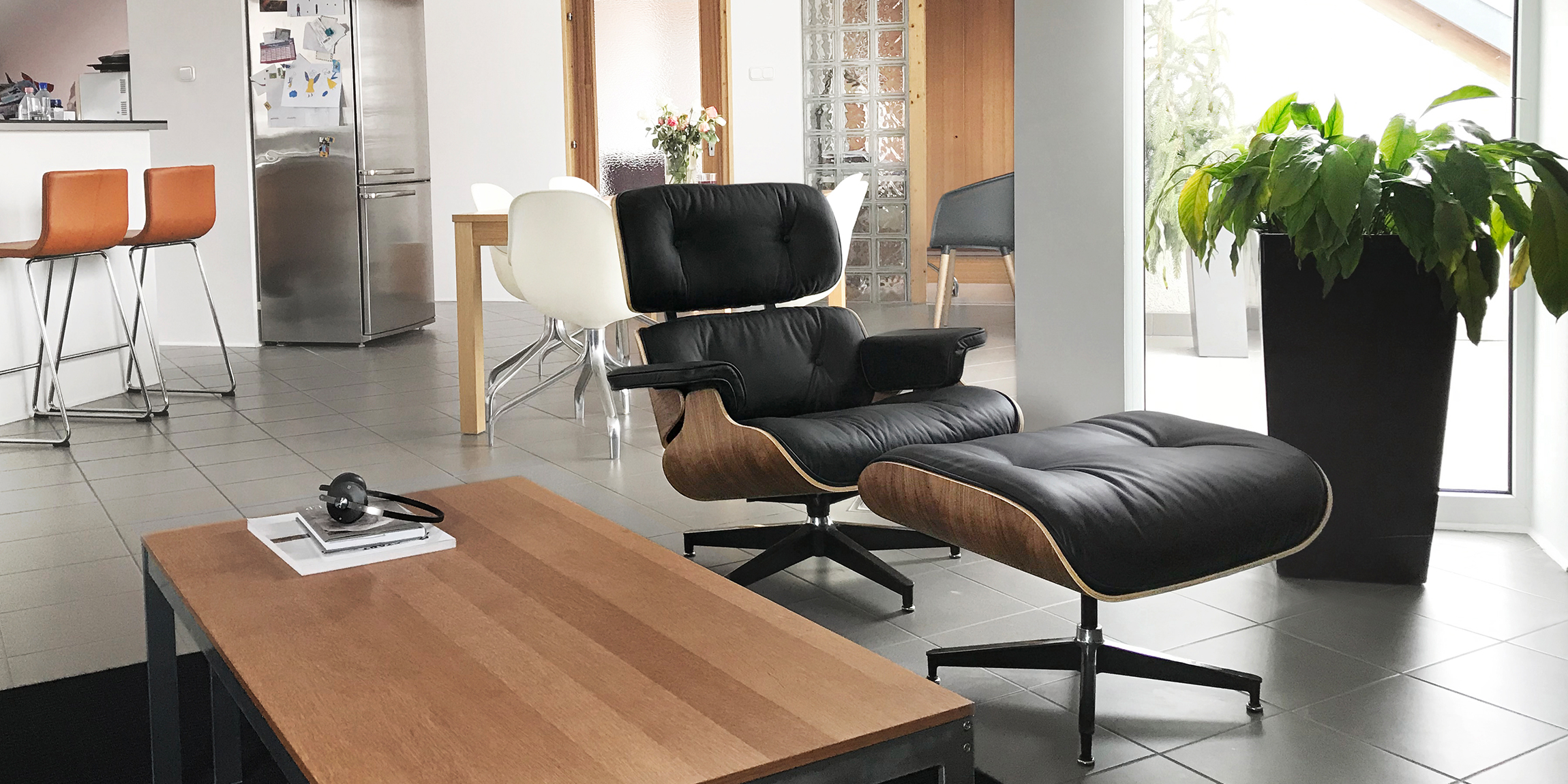 And it's the chair's most renowned feature, comfort, brings us nicely on to one of the Eames designers' greatest assets, best described in this feature by Washington Post: "Charles and Ray Eames, the husband-and-wife design team behind the chair, had a remarkable understanding of ergonomic principles long before these were developed into a science in the 1970s".
This unbeatable level of ergonomic comfort is perhaps best captured (until you get to sit in one for yourself) by the story of Charles Eames inviting film producer Julian Blaustein to use a prototype Lounge Chair to sit in whilst reading over scripts. Charles left and returned a short while later to find the producer asleep. Apparently Blaustein was embarrassed, Charles was happy. As testimony to the pioneering and thought provoking design, New York's Museum of Modern Art holds a permanent display for the Lounge chair.
Yet despite a high end status in the furniture world, Lounge Chairs are a sought after piece for nearly any style of interior. As Eames were just as focused on the aesthetics of their designs as the quality and production, the Lounge Chair is an exceptionally beautiful piece with a truly timeless appeal, partly due to the chair's proportions.
Both the chair and ottoman seat are made of matching sizes whilst the seat and head rest can (in theory) be interchanged due to their symmetrical design. It's the small details like this that allow the 670 to flourish as an accent piece or as a chair to admire a view in.
If you've ever been interested in what differs an original to a replica, there isn't much to wonder. The Pash Classics replica is made to the same specifications of the original using high quality materials and processes.
Here's what makes the replica stand out:
The wooden shells are made from seven layers of steam bent plywood. Even early models of the original only used five layers.
They're always upholstered in full grain Italian leather. Something we're very proud of.
Injection moulded memory foam cushions perfectly fit the shape of the seat, back and head rest.
Plastic shock mounts allow the back to flex under movement and last far longer than the original's rubber mounts. So there's no need to repair or replace.
A solid die cast aluminium base is more than strong enough to support you whilst you read and nap.
Real rosewood or walnut veneers cover the steam bent plywood allowing the natural wood grain to give each chair a unique appearance.
An original Eames Lounge Chair will set you back over £5000. The Pash Classics replica is available with ottoman for £799.
Given the Lounge Chair's impact on the world of furniture and popular culture, it's understandable why you'd want to own one. They're an instant hit with anyone who has an interest in design and they hold the ability to transform any interior. The Eames Lounge Chair Replica is available from Pash Classics now.