With more time being spent at home, do you find yourself noticing more ways your home could do with a touch-up? We have got our in-house interior designer, Lydia, to give you some advice to make a home you are proud of.
Her opinion, when it comes to interior design, is that the best homes strike a balance between style and comfort, so you can enjoy spending time in the pleasure of your own home.
Adding Warmth To A Room
If you find a room in your home lacks character or warmth, there's no better solution than adding wood. The details of wood features and furniture is an easy way to uplift your layout and create texture.
Why does wood add warmth? It's part of a nature connected interior design and can transform the mood of the room or house. With its organic aesthetic presence, it can create a homely and welcoming feeling that other materials don't always reflect. And unlike other materials, wood is easy to work with as it looks good in pretty much any interior style. It blends tastefully with a range of different materials.
The use of wood and plants in this home brings a comforting feeling and paired with the yellow metal chairs adds a touch of colour that could be seen as cold in another setting. The Eames DAW Chair is an easy addition to any space, made from a curated range of plastic seat tops and beech wooden legs, it's adaptable to the style it's placed within.
Consider Designer, Contemporary Furniture
They seem to only get better with age and don't appear to be going out of fashion any time soon. We have found that mid-century designer pieces have stood the test of time and are becoming ever more popular. By purchasing designer furniture you don't need to worry about trends changing and your home looking outdated. The timeless designs seem to be adaptable with varying interior trends from Scandinavian to industrial homes.
Add Details To Your Walls
The decorative feature of wall panels and other details can be added to more than just period properties. It can add character and texture to your home and is becoming a prominent trend in the world of interior design. It may seem and look expensive but it doesn't have to be.  You can look for MDF versions that are a lot more affordable. Once your wall details are mounted it can do a great job of hiding surfaces that aren't looking their best.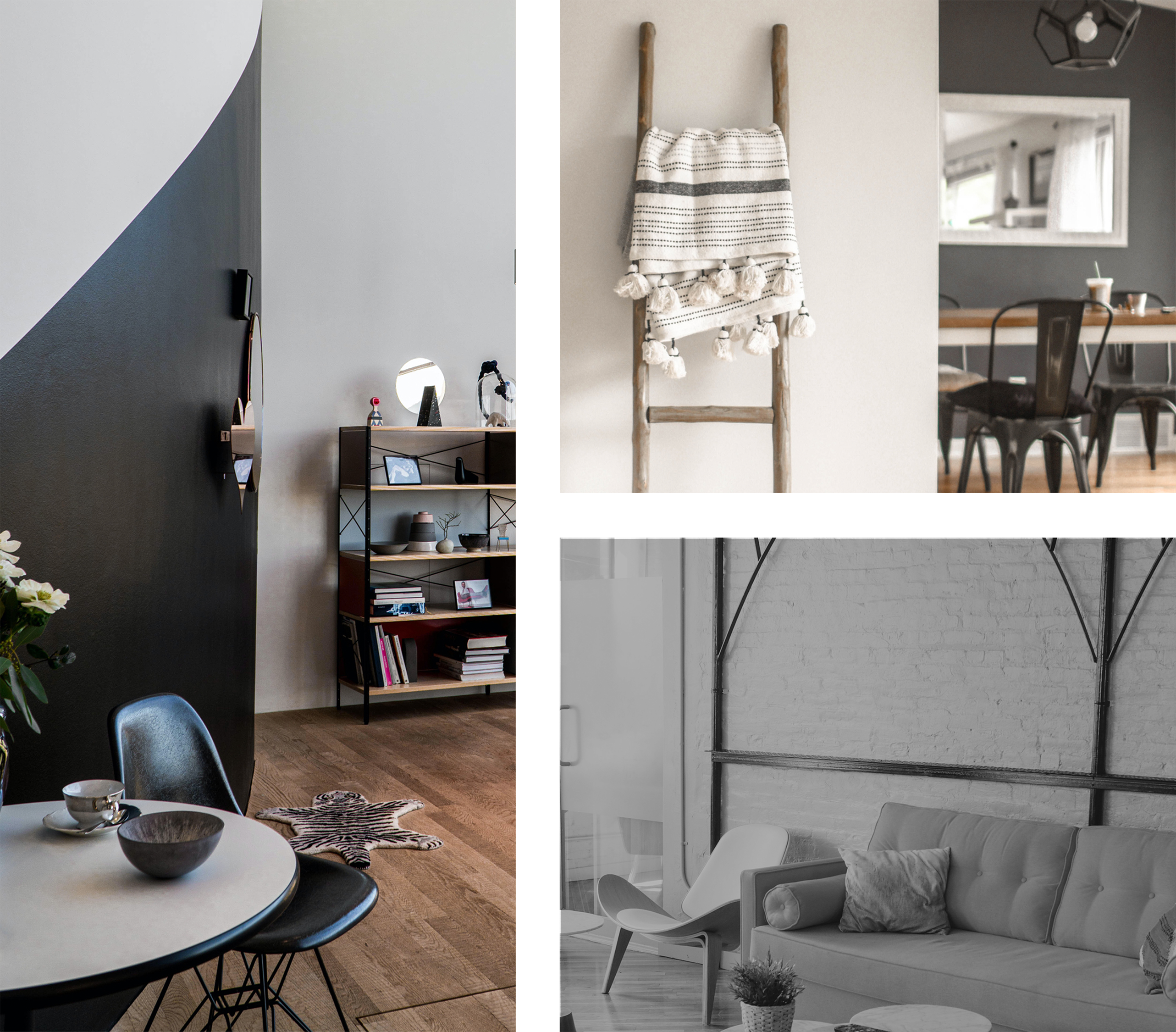 Reinvent Classic Looks
Revisited from the past, the interior design world is featuring a lot of colour block walls. It's one way to make a statement on a bland wall without the use of art or tall furniture. The one thing a colour block wall guarantees is the power to create a serious impression in the room.
There are various levels of bravery. How many colours do you want to use, the types of colours and the style of the block? The divided and sharp lines can emphasise interesting parts in your home as in this photo. The curved wall is exaggerated with the diagonally split black and white wall. It is complemented with dark furniture, in this case the black leg Eames DSR Chair.
Don't Be Scared To Use Bold Patterns
Floors are often left a bit unforgotten and not given that special attention they should receive. A statement flooring balanced with stripped back walls can create striking results in your home. The key to the composition of a room with bold flooring is to compensate for the busy flooring with plain walls. Therefore look for furniture pieces that can be lifted off the floor or have a small surface area.
If you are uncertain about whether to take the big jump to bold flooring, a great way to test it out is buying a large patterned rug. This allows you to see what it will look like and can you live with it. Here you can see that they've used a geometric rug to cover the flooring in their bedroom. They've paired it with a neutral colour scheme and furniture like the Eames DSW Side Chair. They have then added splashes of colour through the use of art and plants.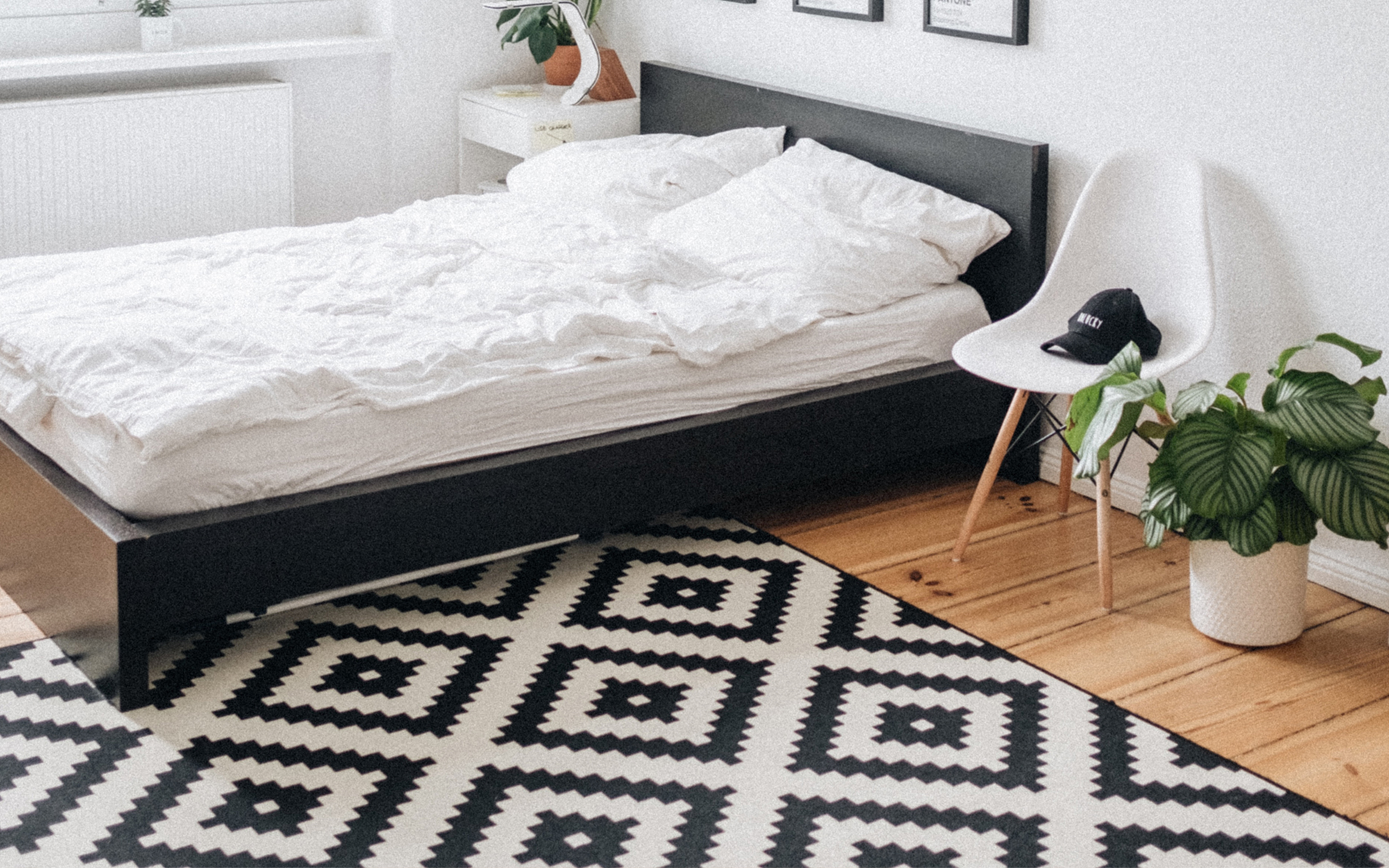 Use A Colour Palette That Inspires You
Your choice of colour is very important when it comes to your interior design ideas. If you want your decor to be lively, then you will want to step away from neutrals as they're subtle and won't make your space stand out.
An easy way to add colour to your home is to accessories with the use of brighter hues and tones while sticking to a neutral backdrop. So keep your walls and large pieces of furniture neutral but add splashes of colour with smaller items that are less noticeable and easier to replace, such as a vase or lamp. This is a lot less expensive if you then want a change of colour scheme.
Here neutral walls, desk, flooring, and Eames Eiffel Chair are paired with a turquoise lamp and plants to add greenery.
Style Your Storage Furniture
By applying the art of display to your storage solutions, you can make a big difference to your home. Make having shelves and bookcases more than just a need for storage, they can give great style to a room. A tip for achieving the art of display is not to always overcrowd a space. Choose accessories in the same or similar colour and tone and use the rule of three.
Rather than just hanging some art on the wall, here they've used a shelf to display their pieces and a few extra accessories in their dining room.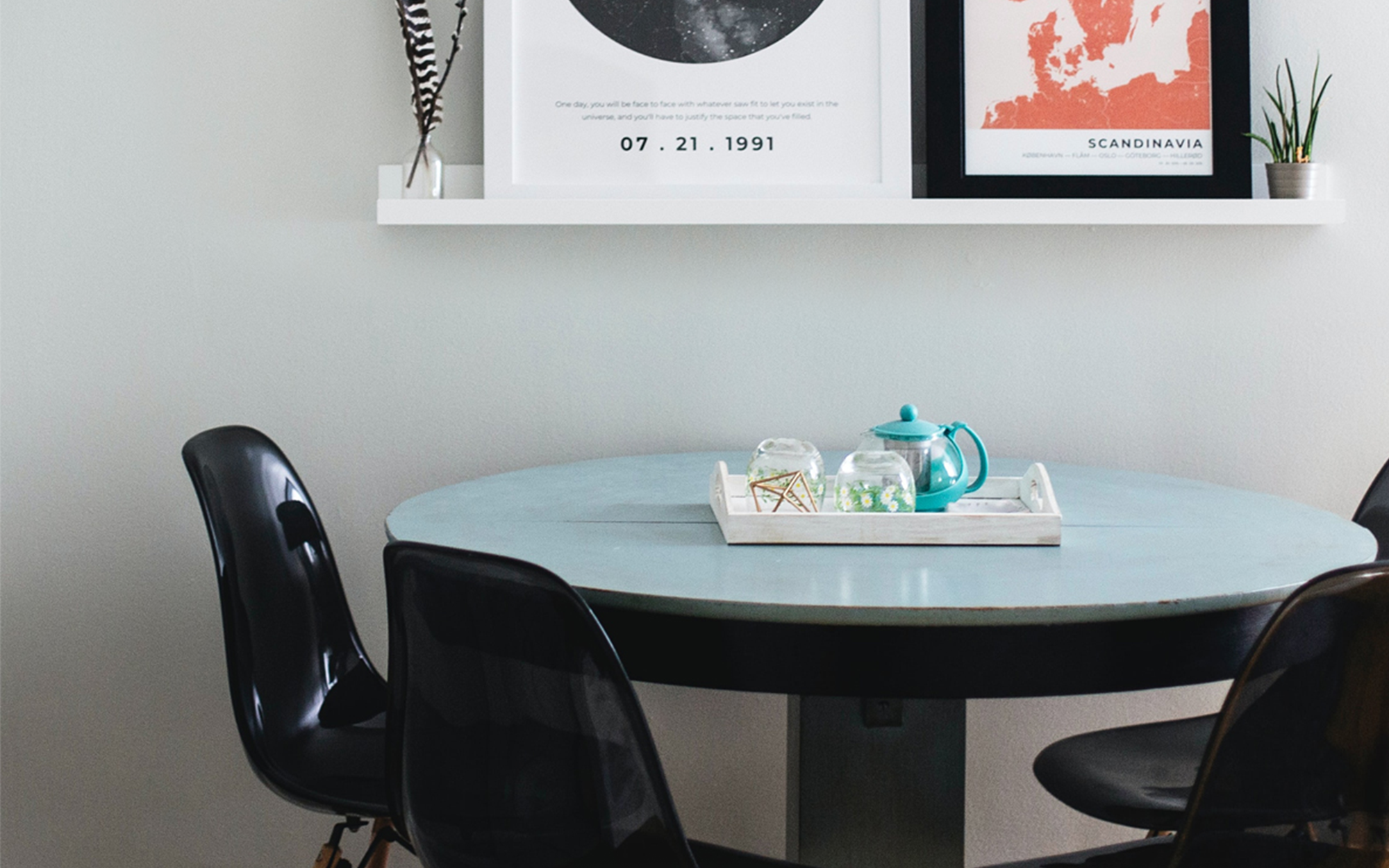 The Rule Of Three In Interior Design
A trick used by interior designers everywhere is to remember the rule of three, this is the idea that grouping odd numbers of items forces the eyes to move around the room and creates a more visually interesting space.
Make A Design Unique In Your Home
Making a piece of furniture a focal point by using it in an unprecedented way can create a bespoke piece for your home. It can be inspiring to think outside the box and not always conveniently use products. Here a Side Chair has been used to hold plants in a botanical part of a house.
While interior designers know about interior styles, trends and how to perfectly execute them, individual style and personality can help your home feel your own and make you happy to spend time in.