Here at Pash Classics, we love mid-century modern design for many reasons, from it's timeless style to it's iconic nature. Through the years, it has been easy to apply the term to any modern piece of furniture or interior that emulates that style. Now we are going to discuss the history, the reasons for its popularity and how you can look at recreating the style of mid-century modern interiors for your home.
The Beginning Of The Mid-Century Modern Design Movement
Post World War II designers had to look for more efficient and cost-effective ways to produce their designs to keep up with the demands of a rising population. Homes were smaller so furniture had to be more compact and practical, all of which fitted the movement perfectly. In the United States it was named Mid-Century Modern whilst in Europe it was called the Bauhaus movement, named after the design school that had a big impact.
There was a newfound optimism and prosperity in the late 40's, 50's and early 60's that led to the development of innovative, new materials coupled with technological advances.
The term Mid-Century Modern was used years after the actual design movement. Cara Greenberg released a book in 1984 called "Mid-Century Modern: Furniture of the 1950s" and so it has now become known as such. Its retrospective outlook on the furniture of the 50's urged a sense of nostalgia within the public and opened their eyes to innovative designs.
Why Does Everyone Love Mid-Century Modern Interiors?
Online connections and communication has meant we are currently living in a trend-driven society. Everyone can be updated on the lost or latest trends very quickly. The fact that Mid-Century Modern style has mesmerised us all for nearly a century, and we see no sign of it stepping down, shows that some trends are born to last.
Still feeling as fresh today as it did 70 years ago, the style emphasised the importance of form and function, making the designs inclusive for all homes. While a key element was the function of the piece, they were also designed to introduce art and sculpture in the form of furniture. A lot of designers pushed boundaries, which resulted in a revolutionary era of furniture and interior design.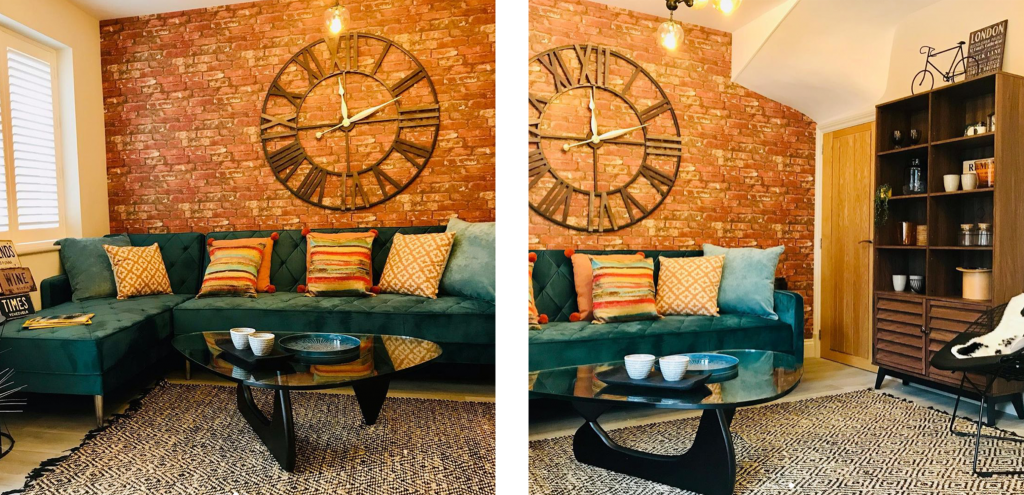 Mid-Century Modern Features
As already stated homes were smaller in size, but with large windows to bring the outdoors indoors. They incorporated open plan spaces to make the interior feel larger and provide a flow from room to room. Architecture made use of clean lines these were also found in the furniture design.
Interiors used a lot of natural materials, such as wood, leather, cotton and combined them with the modern materials of plastic, fibreglass and vinyl. Sleek lines met organic curves, the designs were famous for making a connection with nature and designers used this as one of their sources of inspiration. They acknowledged the beauty of raw materials but with a contrast.
While designs were understated, they incorporated plenty of graphic patterns and lively colours to brighten a home. Bold pops of colour were and still are a signature of Mid-Century Modern homes.
Influential Designers Of The Era
Charles and Ray Eames, Arne Jacobsen, Eero Saarinen, Florence Knoll to name a few, were all iconic designers of the mid-century modern era. They shaped the design world for years to come with their innovative ideas and modernising techniques.
Charles and Ray Eames were two of the most influential designers in modern furniture. However they also worked within architecture, graphic design and art. Their designs still influence the design world today with many chairs being inspired by their iconic Eiffel collection.
Eero Saarinen brought us streamlined furniture, with a space age and futuristic feel. His innovative designs were essential components of the modern movement. His pedestal base designs were to remove the "Slum Of Legs" with the table and chairs providing more space and an ability to fit under one another perfectly.
Arne Jacobsen embodied the minimal yet contemporary designs of the era. His designs may look simple, but each took him years to master as he was using new techniques that resulted in designs that were perfectly executed. With little additions or components, these designs make a statement with their beautiful, smooth form.
Harry Bertoia took an industrial material and mastered it to become an eye catching piece of furniture. His range of Wire Chairs are beautifully individual, with each wire having subtle waves to create a form that fits the shape of your body.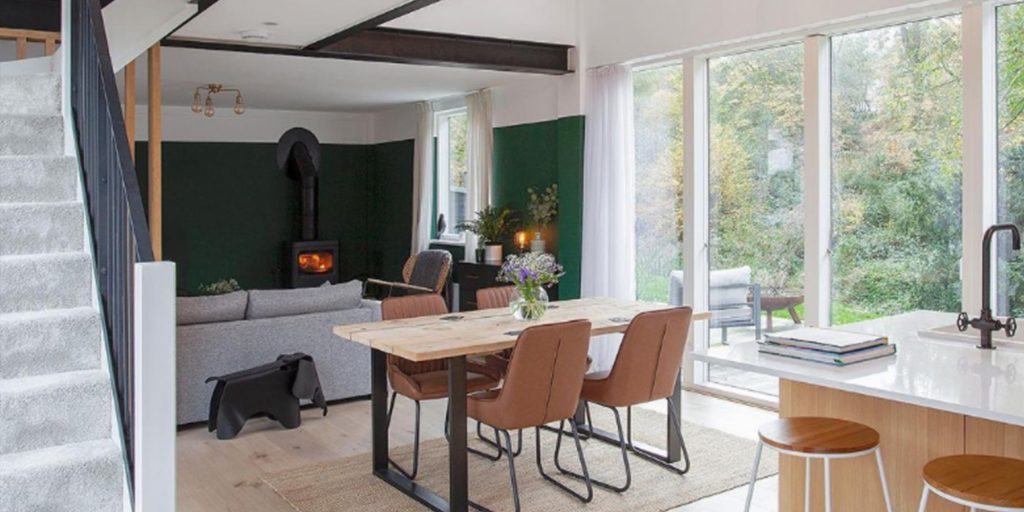 Why We Love Mid-Century Modern Designs
The original designs have influenced many furniture pieces even to this day. Even though these updated designs look great, they can't match the original.
Another reason we love the designs such as the Eames Lounge Chair, Eames Eiffel Chairs, Noguchi Coffee Table, Jacobsen Egg Chair, and many more, is their versatility to be able to mix within a range of interiors. Pieces seem to be able to adapt to the environment they are placed within, and always look effortlessly stylish when they do so. Eames DSW Chairs can be seen in industrial, modern, minimal, farmhouse, bohemian and many more interior decors.
Timeless Designs
These designs are making constant appearances in film, TV and fashion. They are continuously used due to their effortlessly chic and practical designs. They are still a common choice for interior design projects and will keep reappearing for years to come. It was the designers commitment to functionality that has made these designs timeless, because the use of a piece of furniture can never go out of fashion.