'Future comes by itself, progress does not.' Poul Henningsen unintentionally summed up his own designs through an off the cuff quote that helps us to understand why his work looks just as modern today as they did 70 years ago.
Born in 1894 in Denmark, Henningsen studied as an architect from 1911 to 1917 but never graduated. His focus changed from perusing a career in architecture to one in design and painting. It was this decision that helped him in to become the revered designer and innovator his legacy is known for.
If you're not sure who Poul Henningsen is by name, we're sure you will know him through his famous Artichoke and Snowball lamps, amongst a wide range of other lights and pendants that would go on to change the way designers look at lighting a room.
Henningsen became fixated by the idea of recreating the warming and relaxing glow of petroleum lamps which he remembered fondly from his childhood. He considered modern light bulbs to be way too bright, to him they were purely functional, not emotional.
To turn a modern bulb into a light that could bring emotion and style to a room, Henningsen set to work in his attic. By painting the room black, he used candles surrounded by grease stained paper to create varying curves of light and shadow.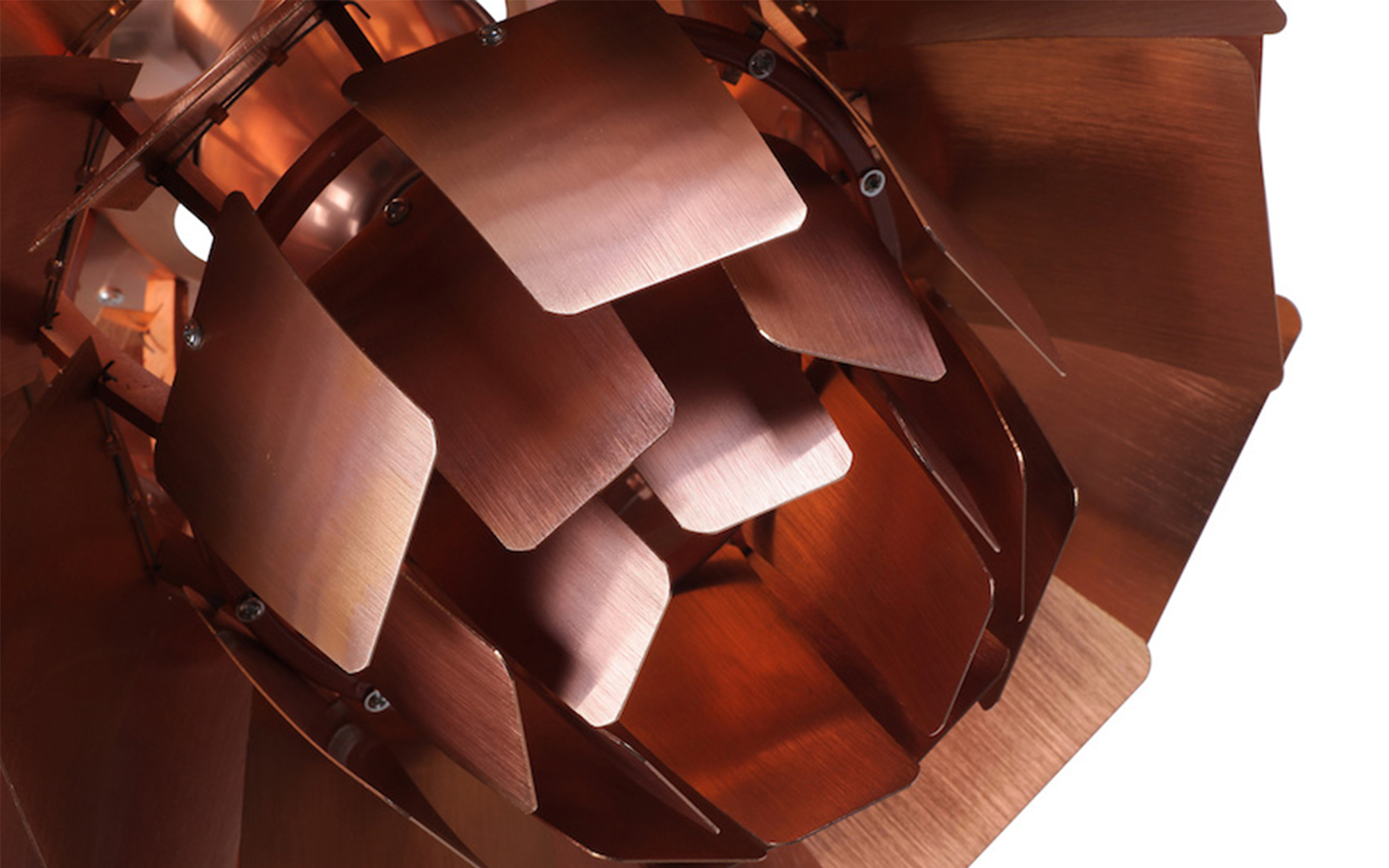 From here he measured thousands of light angles in a process he would call Fotometer. These findings would be used throughout his career and influence a great number of his designs. Poul Henningsen had perfected the reflection, shadow and glare of light.
His first lamp, the PH Lamp, was a major success and in 1925 brought the young designer in to international limelight. The success that came from this design allowed PH to spend an entire career in pursuit of even greater light sources.
We believe that this perfection was created in 1958, when Henningsen designed the PH Kogle, or Artichoke Lamp. Originally called the Kogle in Danish due to its resemblance to a conifer cone, one can instantly see the inspiration behind both names. It was this pendant that thrust Poul Henningsen's lighting designs in to the spotlight of mid century design.
Created from laser cut brushed aluminium leaves that look both natural and entirely intentional, perfectly reflect its hidden light source from all angles. The lamp's specially chosen range of colours (copper, white, silver or gold) give a variety of tones to the escaping light which not only turns heads but completes Poul Henningsen's vision of a perfectly lit room.
Outside of lighting design PH was a widely recognised critic, author and architect. At the beginning of the Second World War he worked as chief architect for the world's oldest theme park, Copenhagen's Tivoli Gardens. Here he was responsible for the creation of Glassalen, a beautiful theatre within the park's grounds.
As Nazi Germany took occupation of Denmark, Henningsen found himself under heavy observation due to his outspoken nature in writings such as "Hvad med Kulturen?" (What About Culture?), a heavily critical piece on Danish cultural life and his involvements with anti-fascist organisations. As a result, he fled to Sweden where he continued to write and design.
In 1967 Poul Henningsen died, leaving behind a legacy of design.