The dining area in this all white Swedish apartment is decorated beautifully. The large windows let in lots of natural light. It makes the space appear larger than it actually is.
By adding different chairs around the dining table, the owners have created a personal look. They have mixed styles and shapes of dining chairs and have chosen white, black and wood to go with the rest of the decor. It all looks perfectly natural and inviting.
Our eyes are on the two black Arne Jacobsen Series 7 chairs.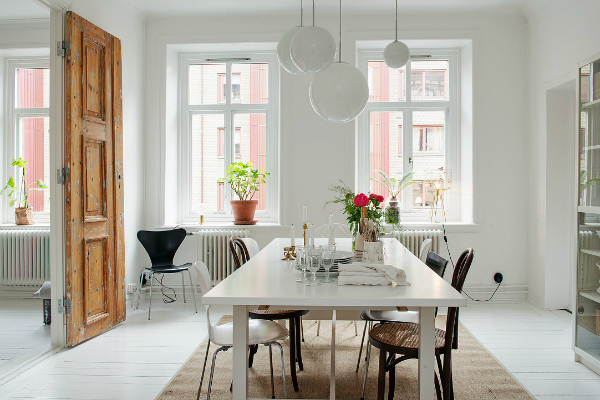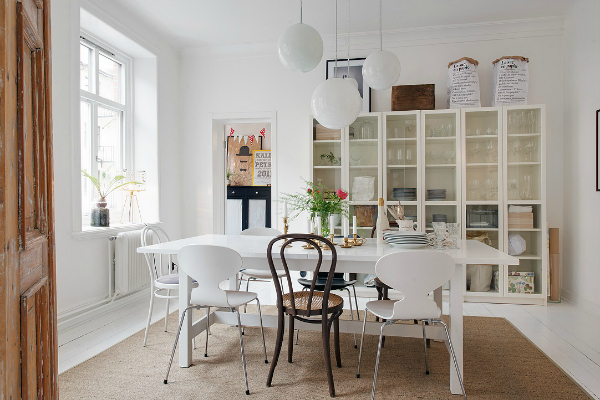 This incredibly simple design has managed to transcend fashions and fads to become a staple of interior design across the globe. This is primarily thanks to the chair's organically shaped jointless seat top which is created from pressure moulded wood and is finished in a range of colours to suit any interior. To support the chair Arne Jacobsen utilised chromed steel to create extremely thin and weightless legs which enforce the chair's minimal aesthetic.
Because we believe that great design should be made accessible to all, Pash Classics offer the Series 7 Chair replica for £69 with free UK mainland delivery in a range of classic colours.