We don't use the word masterpiece lightly at Pash Classics, but Arne Jacobsen's Egg chair undoubtedly qualifies. Fifty years after its creation, it continues to bring a sophisticated presence to some of the most designer and exclusive interiors in the world.
Even if you didn't know the chair by name, we're sure you've instantly recognised its iconic curved aesthetic. Jacobsen's now famous chair has made its way into a plethora of films, music videos, luxury hotels and homes of the style minded. The Beatles 'You've Got to Hide Your Love Away' video and Big Brother to name just two, albeit on different sides of culture!
Designed in 1958 for the SAS Royal Hotel in Copenhagen, a revolutionary concept to create the world's first designer hotel was not entirely successful. As a result, the building now stands with much of the original designs stripped. Yet the chair instantly stood out in stark contrast to the building's almost exclusive use of horizontal and vertical lines and has since become one of the most classic designs of the past century.
Despite being first and foremost an architect, Jacobsen had toyed with being a product designer for the majority of his working life and had previously designed several pieces of furniture in collaboration with Frtiz Hansen.
However, it was the ergonomic curved forms of Eames' iconic Lounge Chair and Eeero Saarinen's Womb Chair that gave Jacobsen the inspiration for what was to become his most famous design. In his home garage Jacobsen acted like a sculpture and created clay models to perfect the chair's curved design, finding balance between ergonomics and style.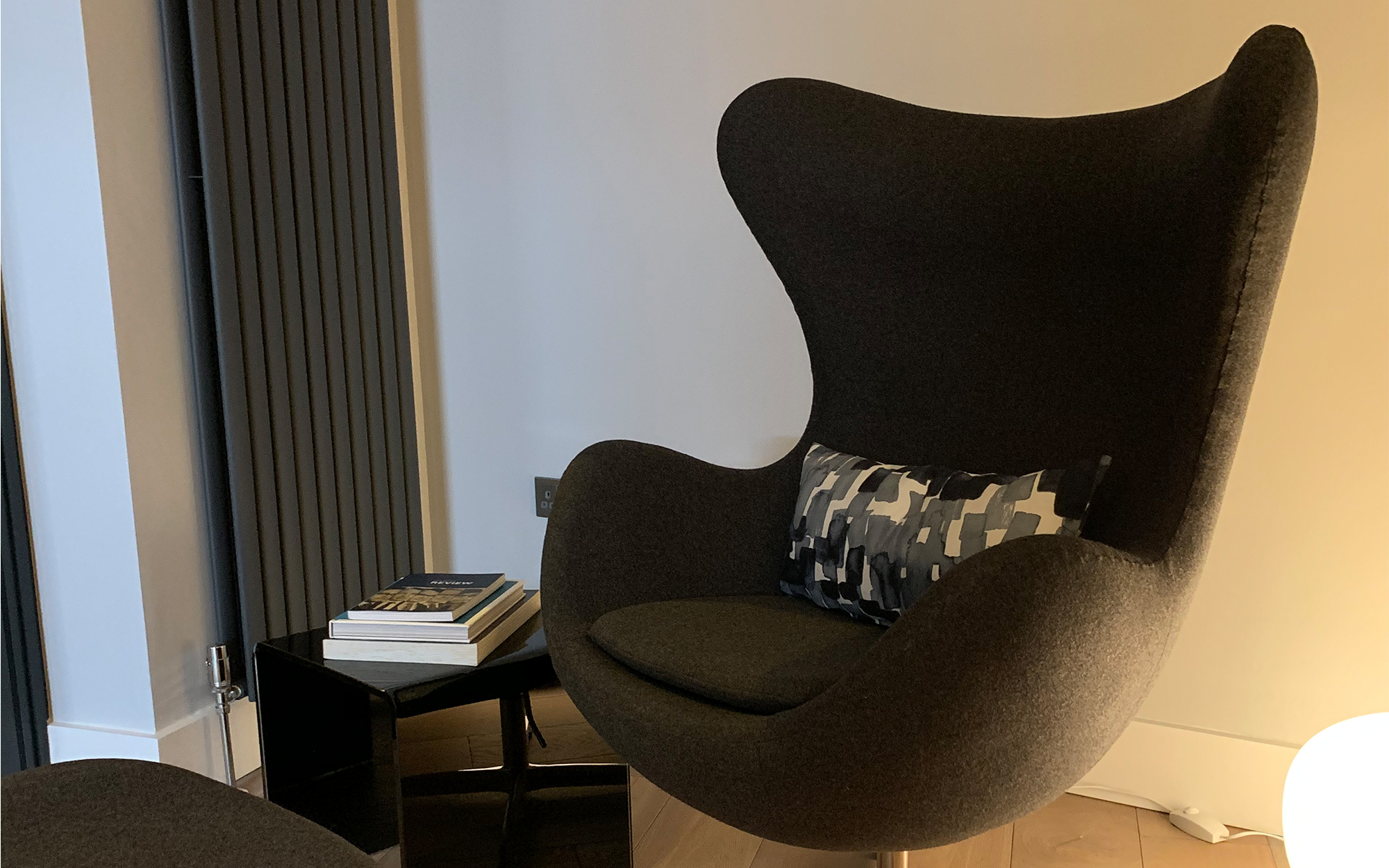 As a designer who was ever pushing style and technology forward a new technique, never before been used in furniture design was developed. Instead of creating the base from wood as was common in pre-war Europe, a strong foam inner shell was used to create the shape in production.
The original run of these magnificent chairs were created only for the SAS Hotel. However, due to their immense popularity a small run of 'special edition' Egg Chairs were created shortly after. To maintain their exclusivity each chair was extortionately priced at $60,000 in 1958.
Luckily for you, Pash Classics offer a reproduction Egg Chair, modelled from an original design, for a significantly lower price but with all of the quality. Constructed from a high quality fibreglass shell and upholstered in your choice of wool, cashmere or Italian leather.
In the years since its initial creation, the Egg Chair has become a symbol of mid-century design and has made cultural appearances throughout every decade since. Many could even be forgiven for assuming the chair was designed in the 70's, thanks to its consistent appearance in brightly coloured upholsteries in homes across the UK.
The chair's head turning design makes it a great choice for those who are looking to add an accent chair in to their living room, and its ergonomic design makes it an easy choice for relaxing in. Surely nothing makes a statement quite like the world's most famous chair?