Out of all the designs synonymous with mid-century furniture, perhaps none are more revered and certainly none more influential on pop culture than Arne Jacobsen's Egg Chair. The Pash Classics replica of this iconic design is available at a fraction of the cost of a Fritz Hansen version, from £559.
To give all of the answers to your burning questions and to delve in to the chair's unique history, here's Your Guide to the Arne Jacobsen Egg Chair Replica.
History
Arne Jacobsen, son of a safety pin trader, was born in Copenhagen in 1902 and showed an extraordinary talent for drawing, sculpture and design from an early age. Originally intending to become a painter, he later decided that a career in architecture was a more sensible choice.
Whilst the leap from painter to architect may seem unusual, both mediums proved to give Jacobsen a platform for personal expression. One through playful creativity and the other through highly accurate drawings and designs.
In the mid 1950's Jacobsen was commissioned to design every aspect of the Radisson SAS Royal Hotel in Copenhagen, from architectural design to furniture and even the cutlery used in the restaurants. In testament to Jacobsen's progressive eye for design, the building would be the tallest in Denmark for an impressive reign of 19 years.
It was during this commission that the Egg Chair, and it's smaller sibling the Swan Chair, were born.
Whilst the Radisson has been updated and renovated many times during it's 60-year life, the hotel continues to be influenced by its creator with generous doses of Jacobsen's iconic designs. However, if you're looking for a truly mid-century experience, Room 606 remains untouched and in its original style. Bookable for 4900 DKK (around £590, or just more than the cost of a Pash Classics Egg Chair replica!).
Room 606 has been left in its original style and is still available for booking today.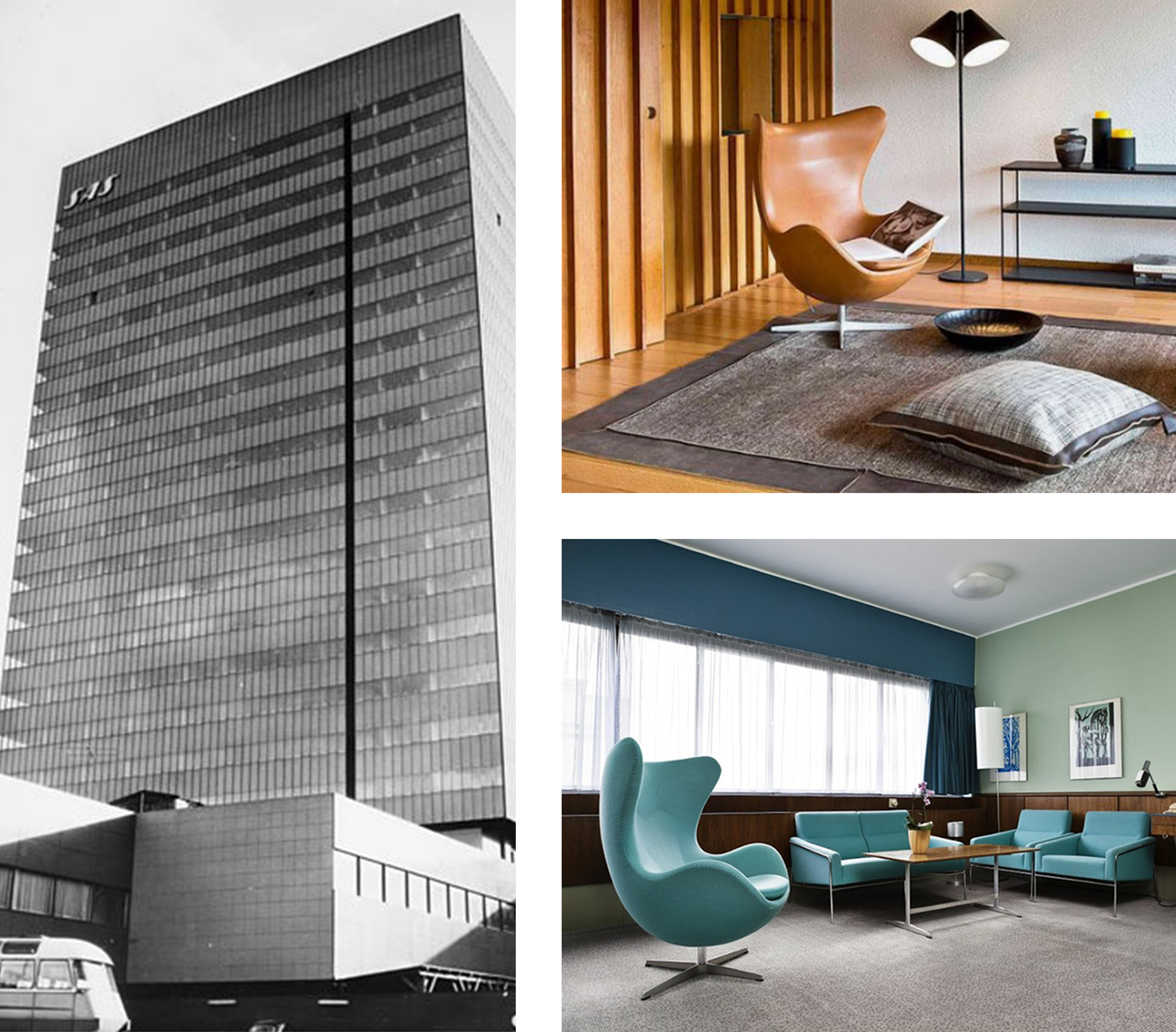 The Egg Chair
Ever the one to push the boundaries of design, Arne Jacobsen's Egg Chair brought many now common furniture design techniques in to the mainstream. The most notable of which is the moulded fibreglass shell which allows for a lightweight, yet incredibly strong unique shapes, the likes of which can't be obtained with wood or steel.
This ground-breaking use of materials gave the chair its unique cocooning shape, which was inspired by Eero Saarinen's Womb Chair and designed to give people privacy in public areas, such as hotel lobbies.
For a truly clean design, the Egg was originally upholstered in fabric with visible seams only surrounding the edge and underside. In other words, the chair's visible seat front and back were clean and uninterrupted. This was considered an important feature given the chair's 360° swivel mechanism, meaning the back is often as much of a feature as the front.
About the Pash Classics Replica
At Pash Classics, we like to keep our replicas as faithful as possible whilst ensuring the highest quality in build and materials. All without the exceptionally high price tag. Here's a quick run-down of what makes the Pash Classics Egg Chair Replica so special:
Built using a quality moulded fibreglass shell.
Hand stitched upholstery in wool, cashmere or full grain Italian leather.
Compliant with U.K. Furniture and Furnishings Fire Safety Regulations.
No seams on the seat front or back.
360° swivel.
Polished stainless-steel base with plastic glides to protect floors.
Matching ottoman available.
Free U.K. delivery and hassle-free returns.
You can shop and browse all of the colours and upholsteries available in the Arne Jacobsen Egg Chair here.