Designer office furniture can be so much more than the standard fair of functional items that don't really inspire. Furniture is the best place to help identify a company and carry the message of a brand and the values of those working within it. 
A frequently asked question in the world of interior design styles is, "can true style ever be bought"? We say it can, but depending on the environment in which this style is being placed, it might not turn out the way you planned! 
At Pash Classics, we seek to provide you with modern designs built by the most famous office furniture designers that can make your office work, but only if you give proper consideration to the room you are trying to create. 
In this article, we talk about the main features of our designer office furniture to help you choose the best one for you and your working environment. 
How Can Designer Office Furniture Make A Big Difference
These days, it's often not enough to simply kit out an office in the standard fare of office furniture, particularly not if you're a design agency looking to promote a sense of modern flexibility and creativity. And this is where our surprisingly affordable designer office furniture comes into play! 
Our designer office furniture from Pash Classics has a very important role in creating an atmosphere that can communicate many things, most notably a level of creativity. Much of it will be made to order, so you can be confident that the products you buy are of high build quality and have a level of individuality and uniqueness to them that can carry your brand.
Indeed, the atmosphere is one of the most important aspects of many organisations, not just for the employees themselves but also for the visitors, delegates, and guests. The designer office furniture can work in tandem with other design elements of an office, such as paintings, decor, and even the building itself, to help build a consistent theme and image that can inspire confidence and admiration in the people who work or come to visit an office.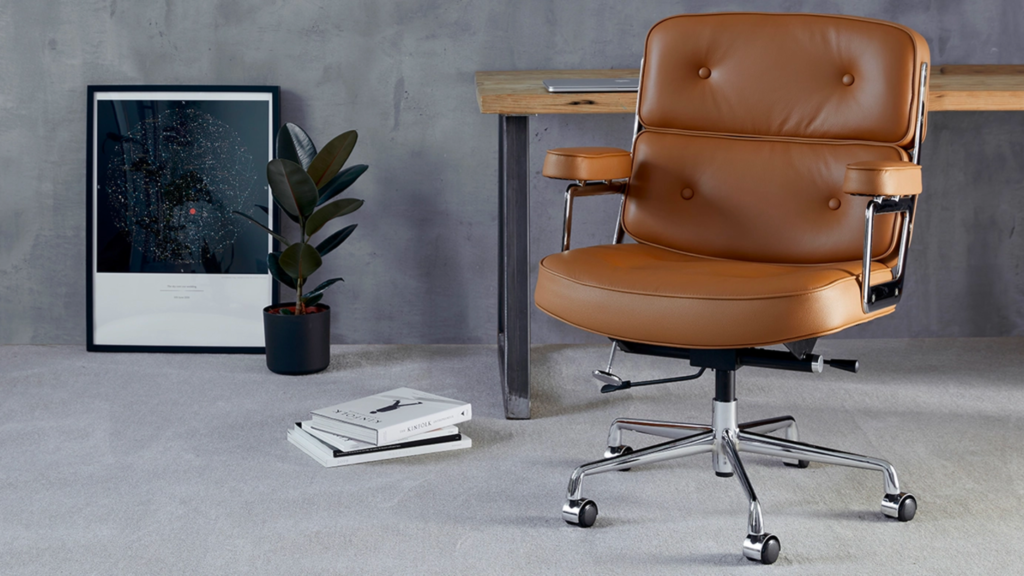 For executives looking for stylish contemporary office furniture, we have the ES104 Executive Office Chair, which communicates a level of authority and comfort that can encourage approachability while also maintaining the structure of the operation. 
It makes use of gloriously padded leather upholstery that simply communicates quality. The fine leather is complemented by the aluminium metalwork that will give a counterpoint to whichever colour you choose, from stark red to classic black, distinguished ivory, smooth cream, or mature tan brown.
An office design furniture like this has to be of maximum comfort and should have height-adjustable options, tilt motions, and armrests. This roller option also encourages the idea of an executive that can move around the office on the chair, taking part in other discussions and retrieving documents without the need to get up. Again, this encourages the informal yet structured ideal!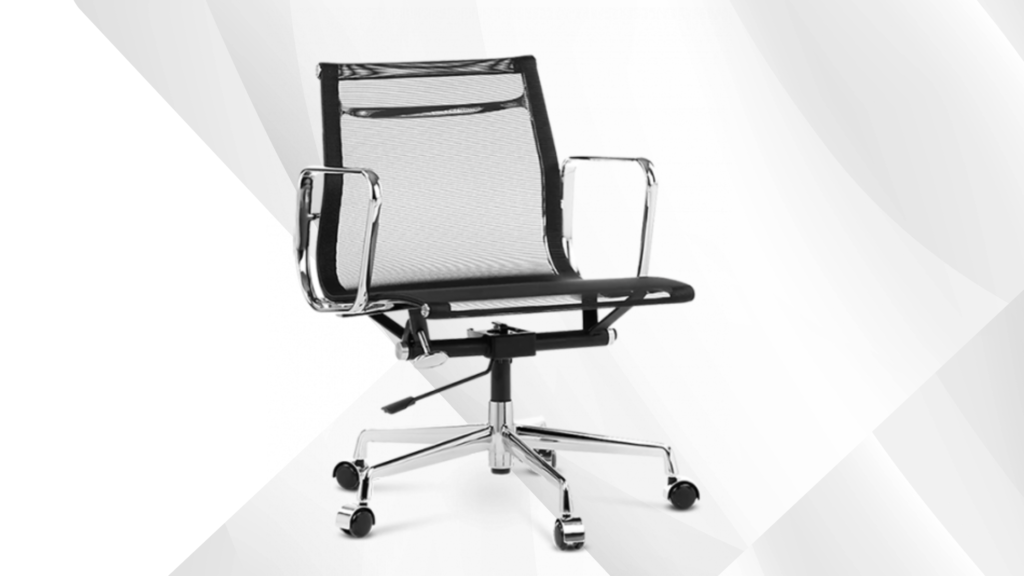 Our designer office chairs collection has a very distinctive look and sense of style, where the most iconic of all the ranges is our Aluminum Group which includes the EA117 Mesh Office Chair.
It is a great designer office chair for general use, which gives manoeuvrability and functionality that has a sleek style built into it to offer many hours of comfort with its mesh upholstered seat and adjustable options. It has a low back and is a beautifully realised reproduction, sporting a polished aluminium base with a height-adjustable bar. 
The seat also has a tilt motion and solid castors, which make it great for skirting across the office or rapidly moving the chair out of the way. Built for comfort and encouraging a positive posture, this designer office chair ticks all the boxes regarding impressions. 
All you have to do is imagine yourself in the seat! Chairs like this are equally well deployed in modern office facilities and traditional or heritage office buildings, where perhaps there is open brickwork or paved floors.
Conclusion
Office chairs like these can make up a very important part of an overall modern and stylish theme with many repeated elements. Other pieces of designer office furniture can then be chosen to complement the theme and ideas that you're trying to build up, and eventually, this can result in a functional and stylish work environment that encourages creativity and even employee loyalty. 
Stepping into an aesthetically pleasing environment can make it a very desirable place to work that not only increases productivity but can also result in more people wanting to work for you!
If you're looking for more inspiration, check out our articles on: