Nothing indicates that a new year has begun like Pantone's yearly colour prediction! 
Since the early 2000s, the international institute of colour has been declaring the shade that will encapsulate the year's spirit ahead, with previous hues that would put their mark on everything interior-design related and not only.
In this article, we'll talk about the background of the Pantone colour of the year 2023, its unique features, and how you can incorporate it into your home's interior design and style.
The Pantone Colour Of The Year 2023 Background
The Pantone colour of the year 2023, Viva Magenta 18-1750, is filled with an energy of vim and vigour, rooted in nature and descending from the red family. 
It is an authentic expression of new strength, fearlessness, and bravery that pulsates with a joyous and optimistic celebration, thus empowering us to write our new narrative. As described by the institute, this crimson-red tone embodies a harmonious balance between warm and cool that reflects our simultaneous existence in the physical and digital world.  
When admiring this exquisite colour, we get empowered to discover a new way of experimentation and self-expression with no restraints that manifest as a stand-out statement. What we love the most about the Pantone 2023 colour of the year is that it welcomes anyone and everyone with the same joy for life and a rebellious spirit.
It is also a clear representation of our pull toward natural colours and the movement surrounding sustainability, land protection, and living in sync with our own nature.  
See what Leatrice Eiseman, the Executive Director of The Pantone Colour Institute, has to say about this bold and powerful colour: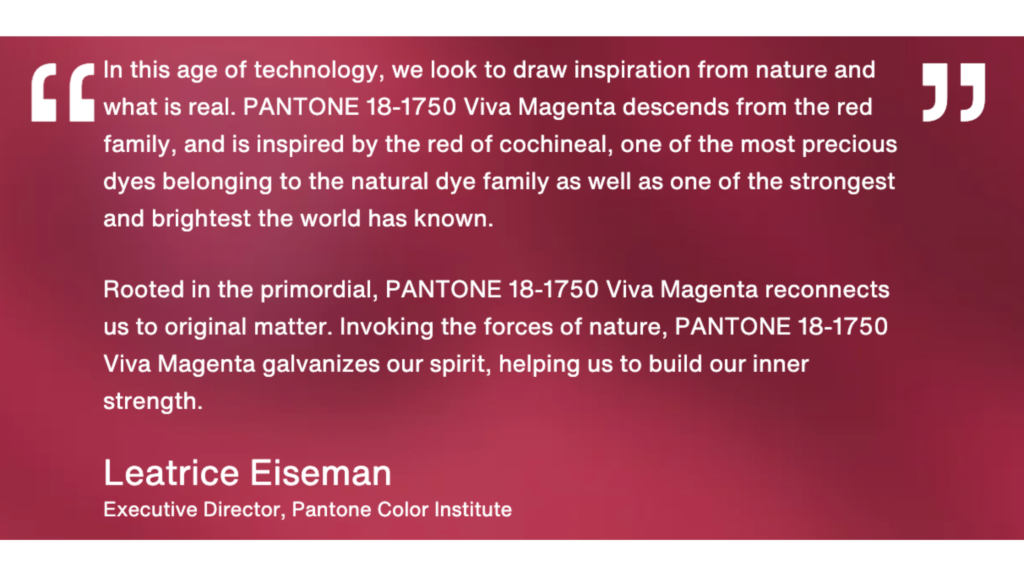 Last year, Pantone emphasised the spirit of embracing personal inventiveness and creativity with the Pantone colour of the year 2022, which was a daring and carefree blue shade that revolutionised the design world.    
And this year, we can clearly see another important movement in the world of interior design trends – going back to basics and rooting in nature to add a joyful and more optimistic tone to our homes and lives. An interesting fact about this colour is that it originates from the cochineal beetle, an insect that produces carmine dye, one of the most precious, strong, and bright of the natural dye family.
Pantone Colour Of The Year 2023 Interior Design Inspiration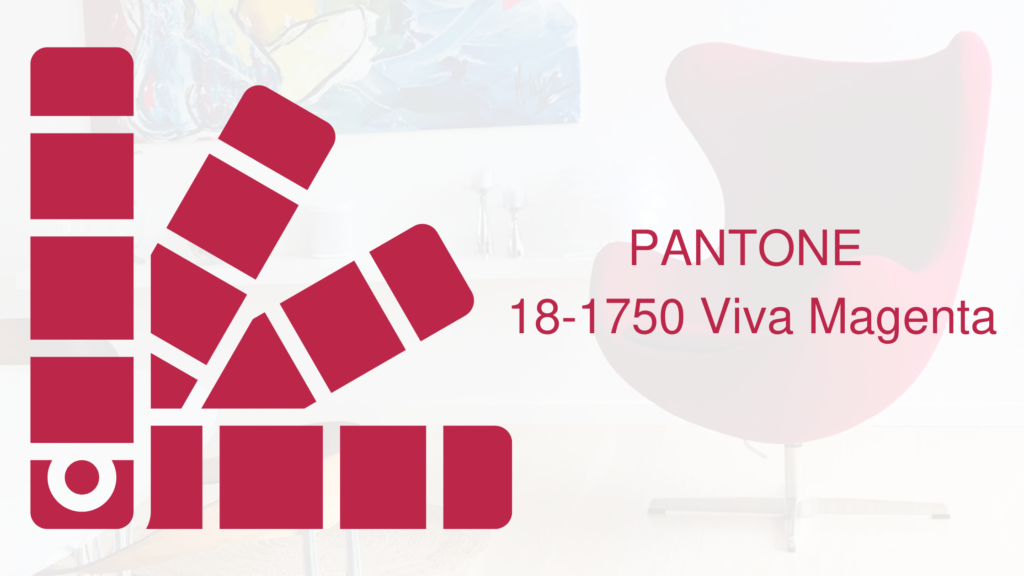 How To Use The Pantone Colour Of The Year 2023
At Pash Classics, we believe that as we move into a world of personal power and strength, having the colour of the year 2023 Pantone as Viva Magenta, brings a clear vision of the rooted family of red colour, beloved by designers and shoppers alike. While it's crucial to stay true to your own interior style, there are endless possibilities to bring this year's special shade into your home and lifestyle.
And now, you may be wondering how you could effortlessly incorporate Viva Magenta into your home or wardrobe, however, you may still find it difficult to find a wide array of products in the exact shade yet. 
Viva Magenta is a bold colour, but it can be easily incorporated into your interior in multiple ways. When trying to think like a professional interior designer, you can, for example, opt for a magenta feature wall or sofa, but it can also be added as a pop of colour through curtains, rugs, pillows, or indoor flowers. 
If you want to add a warm and dramatic tone to any room or space in your house, take a look at how this vibrant Pantone red can pair well with deep jewel tones like emerald green and navy blue, as well as pops of neon from our recommendations below.
After all, finding ways how to be happier at home can start with finding the right colour combinations and finding new ways of celebrating the life you're creating yourself.
A Monochrome Colour Palette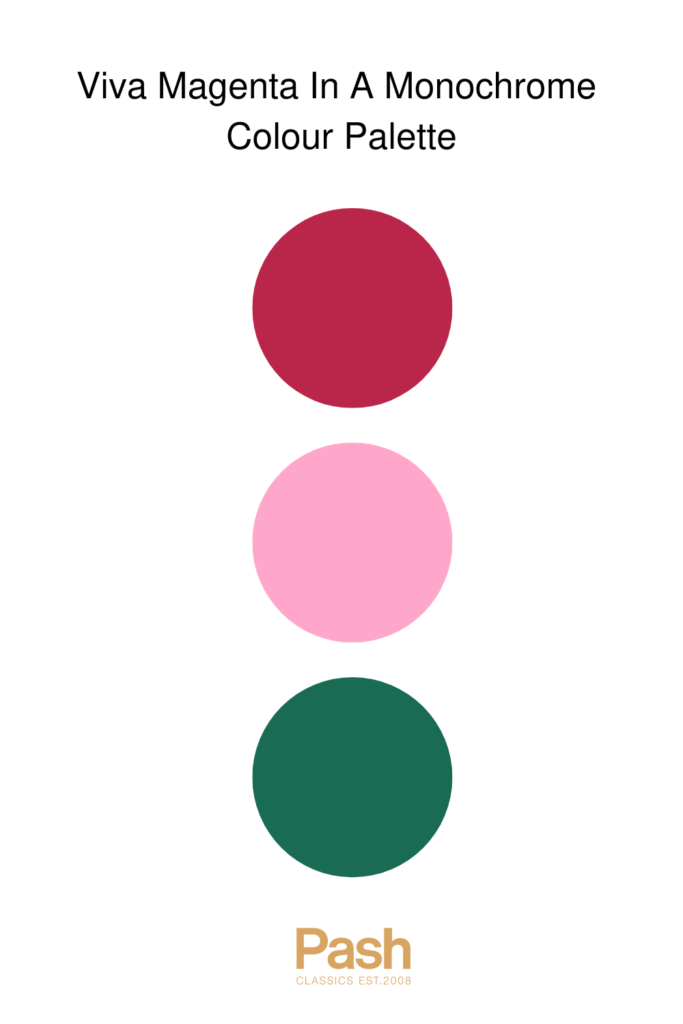 We love this palette as you can pair Viva Magenta with other beautiful shades of pink and red to create a rich and delightful aesthetic. You can also create a strong yet delicate contrast by using lighter tones and allowing the powerful Magenta to stand out on its own, thus creating a visual hierarchy. Add a complementary colour like jade green for a little joy. 
A Colour Palette With Earthy Hues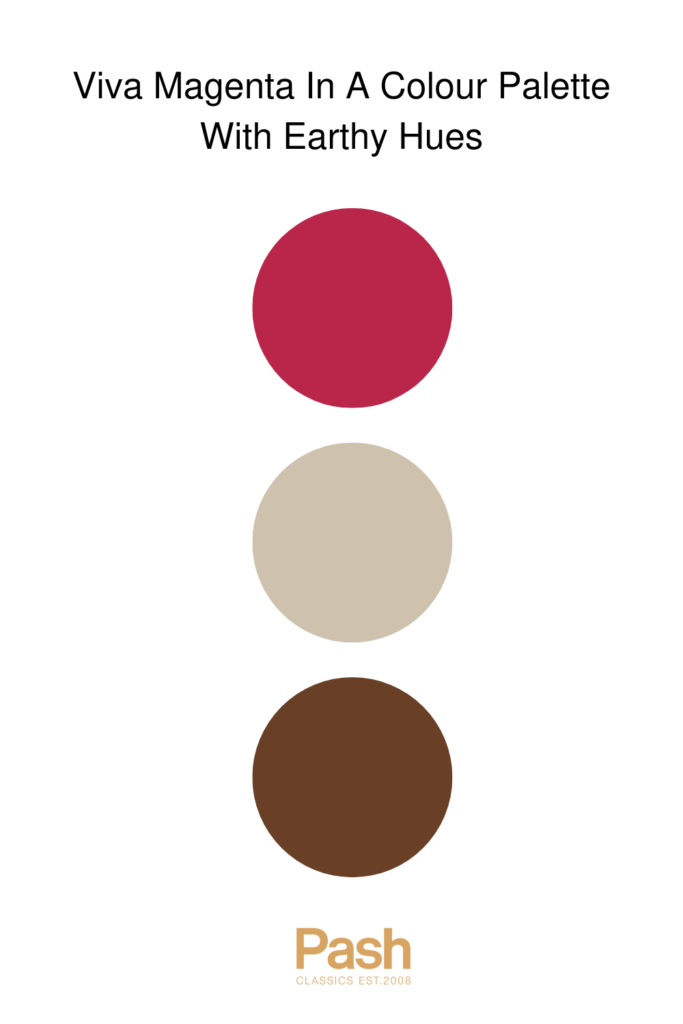 You can soften this powerful red shade with muted earthy hues like sandy beige and cinnamon brown. For example, there's nothing more grounding than designing a living room with white walls and shelves and furniture in earthy brown tones paired with a bold pink rug underneath. 
A Colour Palette With Neon Hints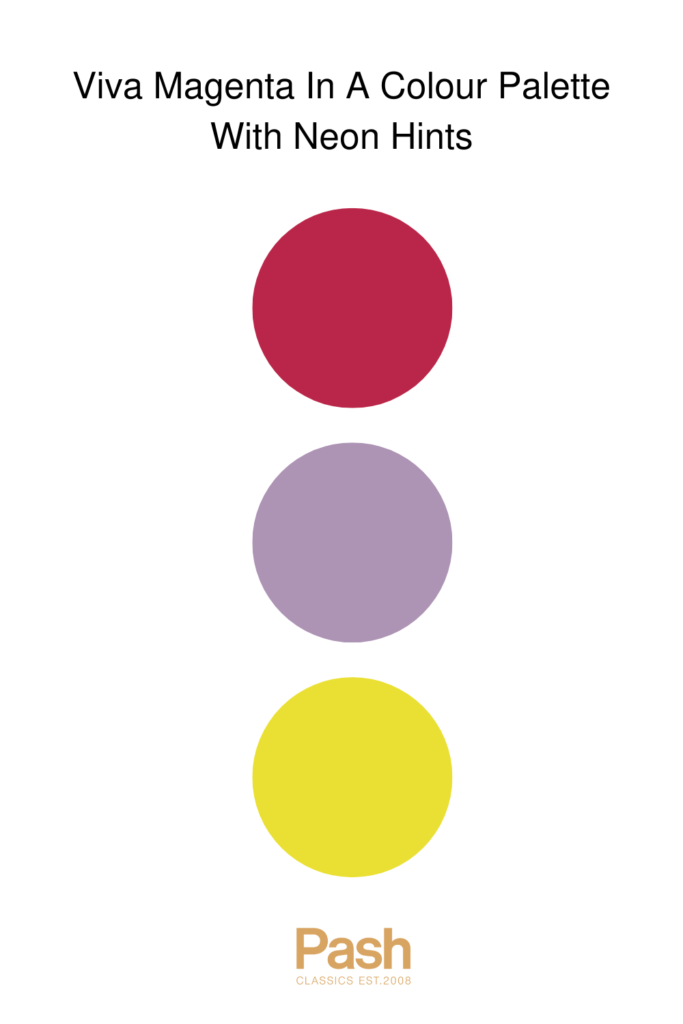 One of the boldest ways of embracing the Pantone colours of the year 2023 is by building a colour palette that incorporates neon colours! The result is an eye-catching combination but still grounded, making it a very bold and vibrant pair.
Final Thoughts
We absolutely love the flexibility of the Pantone colour of the year 2023 and the impact it makes no matter what it's paired with!
Viva Magenta can be made soft and romantic by pairing it with monochromatic pink colours, but it can also be bold and energetic when paired with electric neon colours – the best of both worlds! Who knew a single shade could represent so much?
We can't wait to see how interior designers will start incorporating Viva Magenta into their projects in 2023, as they use this unconventional shade within an unconventional time, thus creating a new vision!
For more inspiration and interior design tips, check out our blogs on How To Create A Complementary Interior Colour Scheme and How To Spend Time Uplifting Your Home.