For 30 years minimalist interiors have been popular and stylish, but interior designers have started embracing a new style of maximalism. Maximalist style is a reaction to the minimalist style movement and is focused on the opposite of minimalistic elements and aspects. People are decorating bigger, brighter and busier.
Read more about minimalism and the history of interior design movements in our blog post Interior Styles Through The Decades.
At Pash, we believe that you should choose a style for your home that complements your lifestyle and personality, not just because of the current trends. To help you decide whether to consider embracing the maximalist design trends, stick with minimal or find an in between that works for you we have created a 'style quiz' to help answer this question.
Go through the questions and make note of your answers.
What colours do you like to use in your home?
A neutral dominated colour palette
Lots of different colours
Somewhere in between, I like large pieces to be neutral but accessories with colour
Which kind of lifestyle do you enjoy the most?
A slower-paced lifestyle that allows me to take time relaxing
A busy lifestyle with always something going on to keep me entertained
Somewhere in between, I like spending time relaxing but also enjoy being busy
When shopping for your home, how would you describe your shopping decisions?
Well thought through and planned
Very spontaneous
Both depending on my mood or the item I am purchasing
How does clutter make you feel?
Clutter makes me feel very stressed or anxious. I have to have plenty of storage to put everything away
I don't think I feel any different around clutter
There is a point where it becomes too much for me, but I can deal with some.
When looking to purchase new furniture, what do you prioritise?
Something simple and functional that I know will stay in fashion
Something that helps to represent my personality and unique style
Something that I love, I can't really define what that is
How do you feel about layering decor?
I like some layering but I normally let my furniture stand out
I love being able to add more to make my home feel more unique
I like layering but I'm not sure how it's best to do so
Could you stick to one style for your home?
Yes, I find it easier to work with less styles so I know everything works together.
No, I like too many different styles to choose one specific one
I don't really know many styles
How do you feel about photo walls?
I don't mind photo walls but definitely prefer them to be smaller
I love photo feature walls, I think it is a great way to share my personality. I would use the largest wall for one
I like photo walls, I like having some freedom to add art or photos but wouldn't fill the whole wall
Do you prefer to complement or contrast?
I prefer to complement pieces, contrasting can become a bit distracting or overwhelming for me
I prefer to contrast pieces, complementing can feel a bit bland to me
Somewhere in between
If you were choosing a pattern for your home, what would you look for?
Probably monochromatic colours in a smaller print
It's hard to know as I love all different patterns, but may be something bold and bright
It depends on where the pattern would be used
Do you feel comfortable with more or less space?
I prefer having more space, smaller spaces make me feel uncomfortable
I prefer having less space, too much space can make me feel uncomfortable
I don't mind either
If your answers were mostly 1's we think you should take inspiration from a Minimalist style. Find out more about Minimalist styles below.
If your answers were mostly 2's we think you should take inspiration from a Maximalist style. Find out more about Maximalist styles below.
If your answers were mostly 3's we think you should take inspiration from both and find your perfect in between style. Find out more about finding an in between below.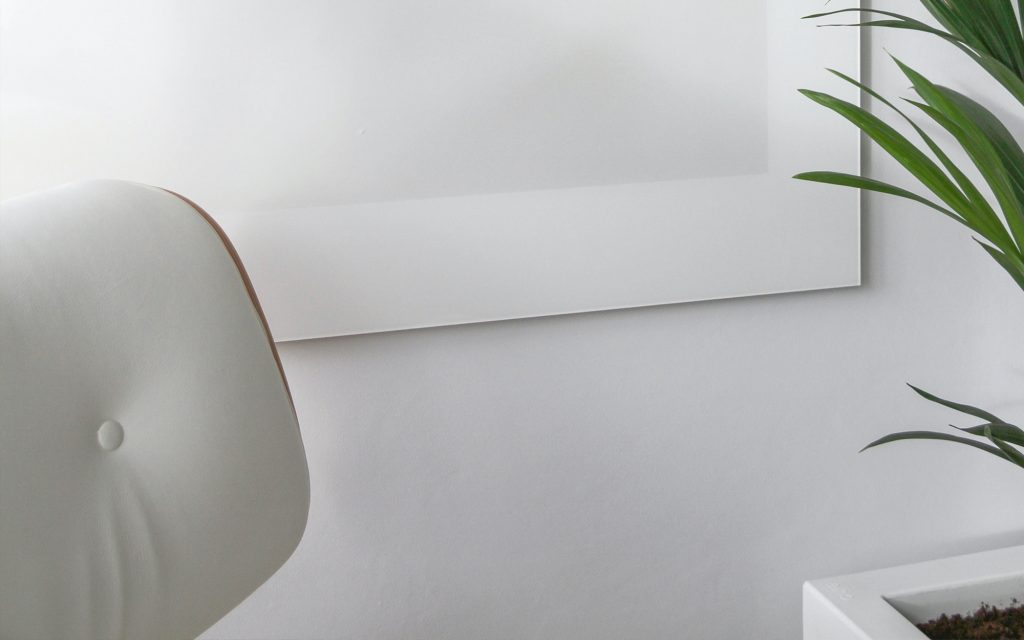 Minimalist Interior
Minimalism is far from boring. The style thrives on the beauty of forms and materials rather than relying on other elements bringing style to the space. There is an understated serenity when it comes to spaces that accomplish the less is more mantra well, and looking for beauty in the simplest of things is a great approach to have with life.
When decorating your home look for functional pieces that add value to your space. Look for furniture that embraces clean lines, monochromatic and simple designs. The use of light, form and materials is essential for creating a minimalist space.
Scandinavians use the approach "less is more" and describe their homes as Hygge, a danish definition for a quality of cosiness and comfortability that induces a feeling of contentment and well-being. Read more on how to achieve hygge in your home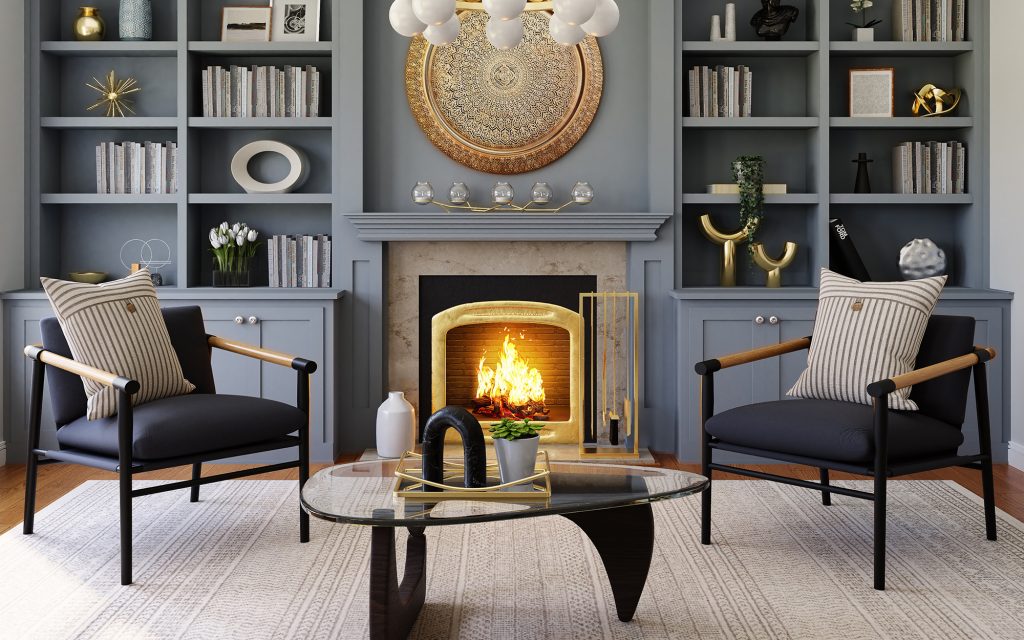 Maximalist Interior
A common misconception about maximalism is that it encourages hoarding and overstuffing rooms. This idea is wrong and even though the style embraces the idea of excess, it is about promoting repetition, patterns, bold colour palettes, graphic details and unique possessions. The style is loud and great for expressing a fun, bold or complex personality because as individuals one word isn't enough to express who you are. You can mix patterns, add more accessories of curated collections and decorate with lots of saturated colours.
For a maximalist home you want to utilise your space in the boldest way.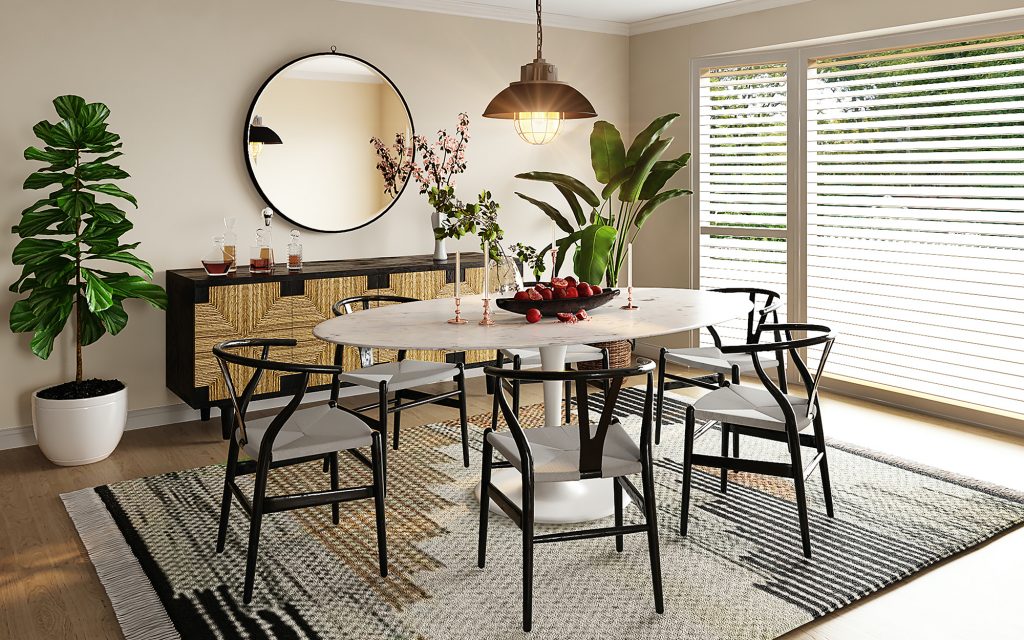 Finding Your Perfect In Between Of Minimalism and Maximalism
Most people will feel they are in between a minimalist and a maximalist, as it can be difficult to be defined as one or the other. You can appreciate both styles while finding neither right for you. To find your perfect in between it may take some reflection, think, what aspects of each do you like or dislike? The quiz taken may help you to work this out.
Find pieces that you love and accentuate them, whether that is surrounding them with negative space or adding to a collection of similar items. Use your favourite colours whether that's neutrals or bright hues. What is important is to create a home you love and feel happy in. For more, read our blog on how to be happy at home.