The trend first emerged back in the 70s, when old factories, warehouses and mills were transformed into living spaces. The people who moved into these old industrial, converted spaces decided against covering up the exposed rawness of the interiors. This blossomed into the very stylish and timeless interior trend, industrial design.
The inspiration is the basis of the design, renovated old factories and abandoned mills. What was previously seen as unwanted features quickly became trendy and desirable.
These buildings usually feature exposed brick, roof structures and plumbing as well as various other exposed metals and building features. It easily brings character to the space and helps to portray the unique and rich history of the building, which would be hard to achieve otherwise.
Today, more restaurants, bars and shops are featuring exposed brick and metal to provide personality and edge to their business.
What We Love about Industrial Interiors
One of the things we love the most about industrial interiors is the ability to pair the style with almost any other interior design.
The style is incredibly versatile and can be designed perfectly regardless of your budget.
It always creates a bold statement, no matter what furniture is added to the room. Often it is paired with minimal designs to accentuate the organic features of the space.
There isn't the need for cosmetic treatment when looking to master the industrial design style, just emphasise the naturally stylish look of bare finishes and materials.
It effortlessly brings character to your home interior.
The style gives freedom for creative expression that helps to shine the personality of the owner.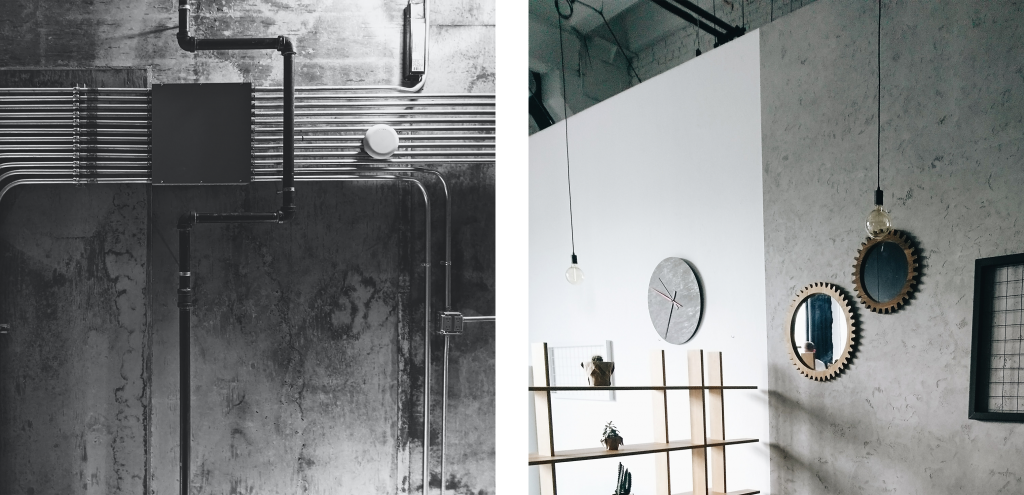 The Colour Palette
The colour palette for an industrial home is based around neutral, essential colours. Additional accent colours can be included to add a pop of colour to your interior, if you feel this is necessary.
We would describe the typical colour palette as darker and moodier. Dark wood is great for emphasising the sleek and modern look.
The colour scheme you choose may want to be centred around the exposed industrial elements. For example, if you have exposed copper plumbing, you may want to choose a warm neutral colour palette with a burnt orange accent colour to accentuate this feature.
Find out more on choosing the best colour scheme.
How To Achieve An Industrial Home
Using an exposed concrete or brick wall in an industrial home is an effortless way to add an accent wall. The neutral colours used gives the designer the ability to pair it with any colour scheme and can easily be updated at any time. The look of a cement wall can be created with the cost effective use of a cement board.
Clean lines and simple forms are an essential part of the industrial look, to accentuate the industrial features. This doesn't mean that your style needs to be simplified, an industrial interior looks it best when quirky accent pieces are added.
Metal fixtures are a vital component of the industrial look. There is a very common misconception that all metals are cold, which isn't everyone's style. You might be surprised with how versatile metal can be, various colours and textures are available.
It is easy to forget that metal is a natural material, and you could be amazed at how elegant metal elements in your home can look. Consider whether you want to use steel, iron, aluminium, copper, brass, bronze, gold, and more.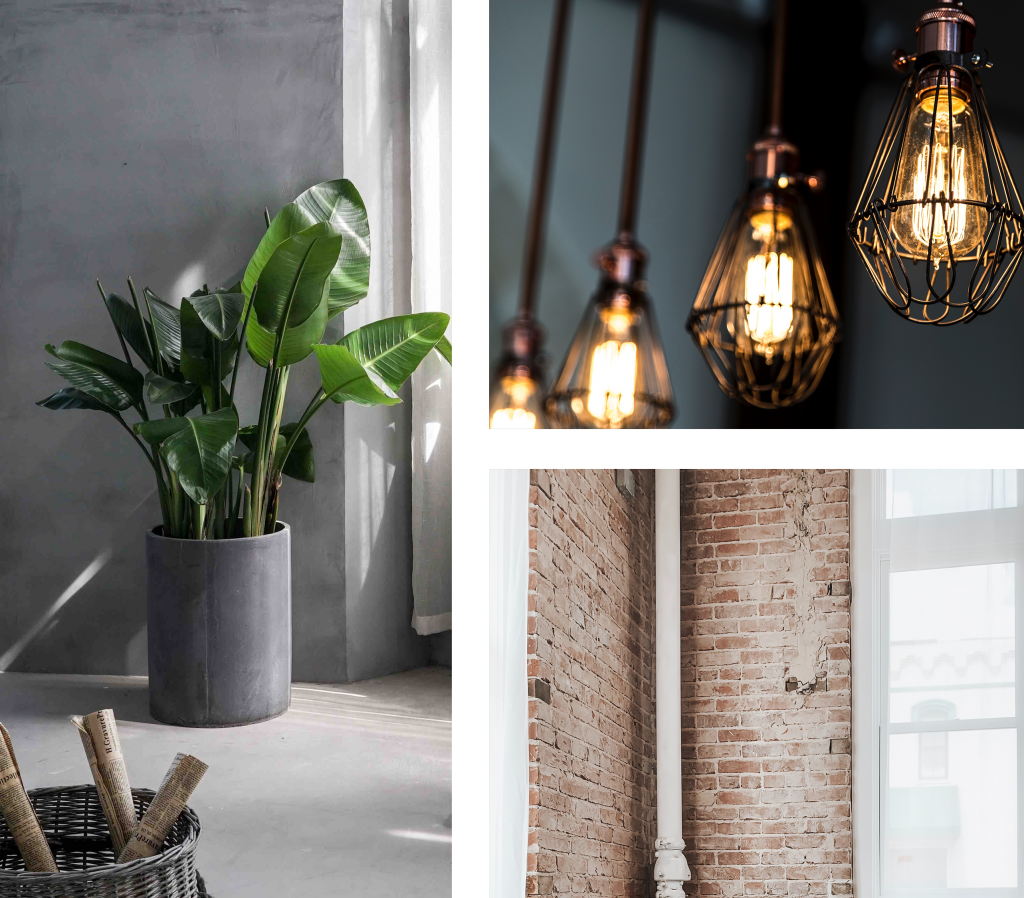 Nature In An Industrial Home
Some people shy away from the idea of using natural inspiration with industrial styled homes. Industrial features make a perfect highlight for the use of green or earthy tones. It has never been more on trend to use nature and plants in your interior, different colours and styles of plants gives them the ability to complement a wide variety of settings.
Minimal And Industrial Homes
The trusted combination of industrial and minimal interior philosophies certainly complement each other. Minimalism is all about making the most out of your space, with impactful and practical features, which plays into the hand of the industrial style. Walls and floors are relatively bare, this allows the industrial elements to provide the character for the space.
Retro And Industrial Homes
Another commonly used pairing for your industrial home are retro and vintage features. This works for those who want to achieve a retro style. Look for accessories like retro phone sets, record players, vinyl records, old fashioned sewing machines. Hang bikes on accent walls or retro clocks.
Atomic Industrial Style
If you like industrial and mid-century modern style homes, atomic industrial is the perfect compromise between the two styles. By incorporating the materials and colours of mid-century design and keeping your colour palette to a minimum you will achieve an industrial aesthetic for your home.
Many mid-century modern and retro shapes are already used in industrial homes. Atomic industrial is a playful take on the more minimal or modern take for industrial style. You can achieve an eclectic combination of reclaimed and vintage pieces, with modern materials and furniture.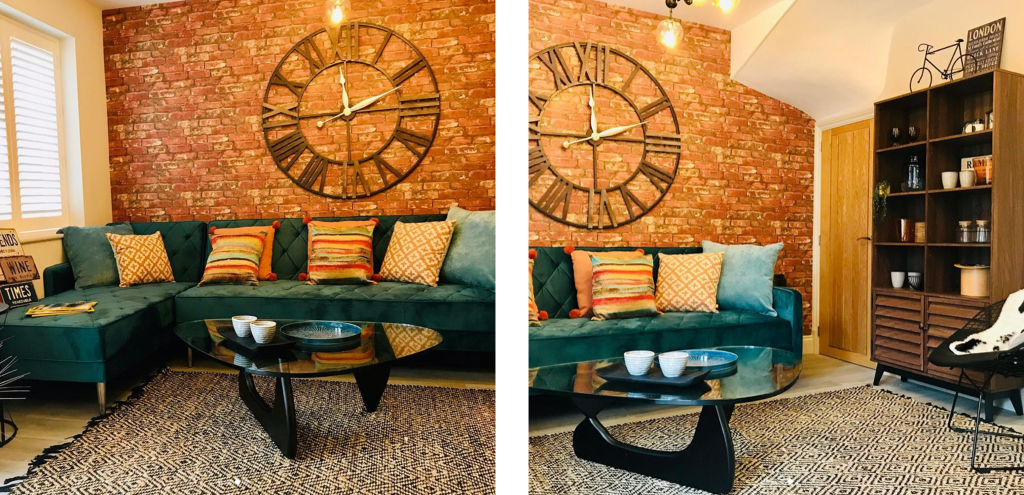 What Pash Products We Would Use For An Industrial Home
Pieces that use metal like our Bertoia Style Wire Collection, Eames Style DKR Chairs and Gray Style Side Table help to communicate the metallic features to an industrial style home. Our wire chairs are available in a chrome or black powder coat, deciding which one would depend on your chosen colour palette.
Following the colour palette of a typically more dark and moody industrial style, we would pair the dining room with our Eames Style Dining Table, specifically our black table top and walnut legs, with matching Eames Style DSW or DAW Chairs. 
A lounge chair that looks as stylish brand new or worn and more rugged, is our Eames Style Lounge Chair. The warm and natural materials perfectly complement an industrial home. It also matches the idea of prioritising comfort and function over style, fortunately our Lounge Chair is able to match all this criteria.
Another accent chair that could be used is our Jacobsen Style Egg Chair. We would recommend it in a leather upholstery, the tan brown is one of our favourites at Pash. This could be used to accentuate an exposed brick wall, or next to cabinets with an old record player and vinyls.
For anymore style advice on our Pash products, contact us.